There's something about the north that makes me keep coming back. Maybe it's the cold weather and fresh air. Maybe it's the food. So every time I come back to Baguio, the Philippines' City of Pines, I make sure to try a different restaurant. Here's another list of where to eat in Baguio City.
Fall-off-the-bone Lomo Ribs at Canto
One of the restaurants to greet you upon entering Ketchup Food Community is Canto. The food establishments in Ketchup has gained popularity in the past years. Hence a queue is quite common. And queue we did when we got there. The simple façade is unassuming, with garden plants as the only decoration outside. After a few minutes, we were seated in the back, ready to order.
We both came here for one thing: Lomo Ribs. It was both our first time at this restaurant but it was not the first time we heard about how good was their ribs. I had high expectations. It's not every day that I encounter ribs that I truly liked. I'm not much of a meat eater so the tenderness of the meat is high on the list of my requirements.
And Canto didn't disappoint. Not one bit. As a small eater, I didn't expect to finish the half slab by myself. But it was just so tasty that you can taste the marinade up to the bones. And it was so tender and juicy that I didn't have to use my knife.
I liked the Cascade salad because of the addition of candied nuts, and watermelon. Those added texture to the otherwise normal salad. Never mind the mediocrity of the mashed potatoes because the fall-off-the-bone goodness of the Lomo Ribs will make you forget your name and your troubles even for a short while.
***UPDATE JULY 2017: Ketchup Community is now closed and Canto has relocated to 32 Kisad Road (opposite Burnham Park, near Baguio City Library) 
Strawberry Shortcake heaven at Vizco's
I have a confession to make. I'm not a big fan of strawberries. I have always associated strawberries with the fake kind that you get in ice cream, beverages, and other food items. But Baguio has always been synonymous with strawberry. And when it comes to Strawberry Shortcake, there could only be one for that: Vizco's Restaurant and Cake Shop
Tucked in a row of restaurants along Session Road, I'm quite sure that I have passed by this restaurant during countless times when I was in Baguio. And I was none the wiser.
The cake display isn't in front of the restaurant. And you'd have to go inside to discover the treasures they're hiding. In fact, cakes aren't even the first food item in the signage outside the restaurant. It's the last.
So forgive me for only discovering Baguio's open secret just recently. 🙂
Their display chiller is every cake lover's dream. Rows of delectable and yummy-looking cakes entice you to buy them all. But of course, we had to curb our impulsive tendencies. We saved just enough room for dessert after that big lunch.
After a few minutes of waiting, a slice each of the Strawberry Shortcake and Mango Torte landed on our table. As customary, we had to take a photo of every side of the cake while the waiters chuckle at us. 😀
The first bite was the sweetest. The pillow-soft sponge combined with the tartness of the fresh strawberries and the sweetness of the thick cream sure tasted like heaven to me. The combination of flavors and textures melded into nostalgic goodness in my mouth. Nostalgia because it made me remember the joys of my youth, picking out strawberries at the Strawberry Farm in La Trinidad. I almost didn't want it to end. It was also a light cake and would surely make you want to go for seconds.
I'm getting melancholic just writing about it. Oh, I'll surely come back for a whole cake next time.
The Mango Torte is another story. I had mixed feelings about it. One cannot help but compare it to Conti's Mango Bravo except that this one is smaller and the mangoes are a bit sour. Maybe because mangoes are no longer in season. Another thing was the large ice crystals and frozen part in the lower part of the cake. I didn't ask if this is a frozen cake but I sure didn't like the texture of the large ice crystals. It makes me remember the food that has been thawed then refrozen. Still, it was a good cake. The meringue layers lend a good crunch to the sweet cream and the sweet-sour mangoes on top.
Vegetables and Art at Oh My Gulay
After a bit of walking and letting our metabolism digest our heavy lunch and dessert, we found ourselves searching for a concealed artsy café. Our feet led us to the 5th floor of La Azotea building along Session Road. The seemingly endless flight of stairs was all worth it when you arrive at the entrance.
It was like being transported to another dimension, so far removed from the landscape you'll see from its windows.
Standing in front of the pond and the wooden bridge, I gawked at the unique surroundings. Directly in front of me is a structure that can be likened to the Kremlin. A closer look inside revealed that it houses the toilets! A stroke of genius I must say. The first-level dining area near the kitchen definitely had that cabin feel, with a view of Baguio City outside.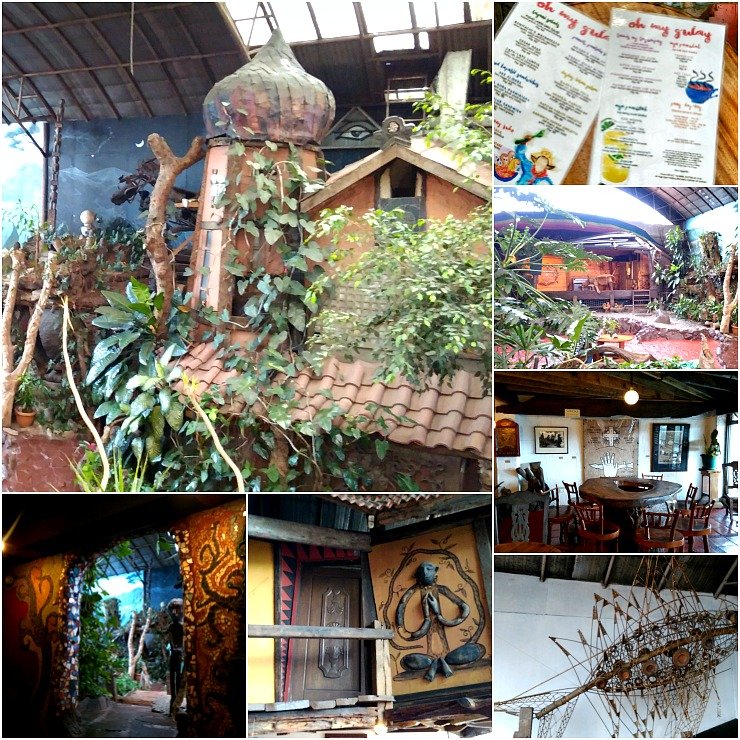 Upstairs was more interesting. With quirky and interesting art installations as well as framed artworks. There was also a model of a traditional Igorot house as well as a flight of stairs designed to look like you're going inside a cave. Definitely recommend this for art aficionados, like us. We were so glad we pushed through in looking for this restaurant and café.
After much wandering, we finally ordered our pasta. I had the Anak ng Putanesca while Akiko had the General Luna's Punyetang Shiitake. Both paired with tea – Banaba and Chamomile. After a few bites, we both agreed on something. The food was quite bland for our liking. I do understand that this is a vegetarian restaurant, but I've had vegetarian dishes that are way tastier than this. Perhaps, a bit more herbs and spices could do the trick.
Vegetarian/vegan restaurants are quite hard to find in the Philippines, so stumbling on one in Baguio was a good surprise. Not that I'm turning vegan soon, but it's good to have options to suggest to vegetarian/vegan friends.
We spent a bit more time upstairs, by the hanging art installation that looked like a fish skeleton. From the windows, one could see the lights of the city outside, a perfect place to just chill and enjoy the moment.
---
Restaurant details
CANTO:
Lomo Ribs: Grilled Homemade BBQ Ribs served with Cascade salad, rice or mashed potatoes
Whole Slab Php400/Half Slab Php 209
Ketchup Food Community
Romulo Drive, Pacdal, Baguio City (in front of Wright Park)
Operating Hours: 10:00 AM – 09:00 PM
***UPDATED JULY 2017: Canto has relocated to Kisad Road (opposite Burnham Park)
VIZCO'S RESTAURANT AND CAKE SHOP
Strawberry Shortcake: Php 95/ Mango Torte: Php 125
8GF Puso ng Baguio Building, Session Road, Baguio
Operating Hours: 07:00 AM – 11:00 PM
OH MY GULAY
Pasta: Php 150 (Anak ng Putanesca/General Luna's Punyetang Shiitake)
La Azotea Building, 108 Session Road, Baguio
Operating Hours: 11:00 AM – 08:30PM
FOR MORE OF BAGUIO FOODSCAPADES: 50's Diner, Good Taste, Café Sabel, and Choco-late' de Batirol
See also: 7 Spots to visit in Baguio with Family
---
Have you been to Baguio? What restaurants have you tried in Baguio?
---
PIN IT!