Looking for a 2-day itinerary that will help you make the most of your time in Cappadocia, Türkiye? This travel guide covers everything from where to stay and what to eat to what activities to do. So whether you're a first-time visitor or a seasoned traveler, this guide has you covered.
Fairy chimneys, hot air balloons, cave hotels, and a moon-like landscape. If Cappadocia, Turkey is still not yet on your bucket list, what more can you ask for? One winter, I took a trip to this magical region to celebrate my birthday. And so, to help you with your travel plans, here's the Ultimate Travel Guide to Cappadocia (Kapadokya) including my itinerary and expenses!
What are fairy chimneys?
A long, long time ago in Central Anatolia in Turkey, volcanoes erupted and spewed ash all over the region. As years went by, it hardened into layers of tuff and basalt.
But because Mother Nature has a sense of humor, these layers eroded and what was left are pillars looking like mushrooms with basalt caps and bodies made of the softer tuff.
The rest, as they say, is history. And that was how the "fairy chimneys" came to be.
Why visit Cappadocia?
Hot Air Balloon ride over fairy chimneys. I'm sure you've pretty much seen that photo of Cappadocia everywhere. Although those are enough reasons to warrant a visit, Cappadocia has much more to offer such as its rich history and rich flora during spring.
Cappadocia also played a role in the spreading of Christianity and was also a part of the Silk Road. Goreme National Park and the Rock Sites of Cappadocia are also inscribed as UNESCO World Heritage Sites.
Where is Cappadocia?
Cappadocia (Kapadokya) lies in what is known as Central Anatolia. In the modern day, it is comprised of four provinces: Nevsehir, Kayseri, Aksaray, and Nigde.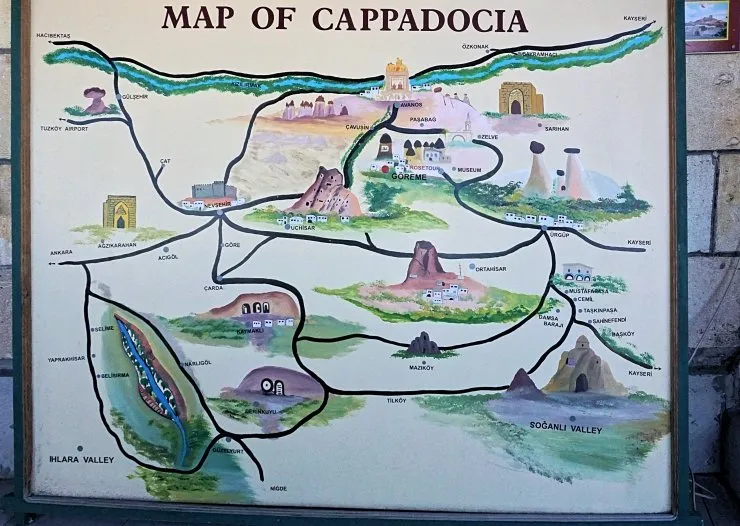 Best time to visit Cappadocia?
Although Cappadocia is a year-round destination, the best months to visit Cappadocia are April, May, September, and October if you want the most pleasant weather and the highest chances of getting on a hot air balloon flight.
The hottest months are from June to August, and the hot temperatures bring in crowds and high prices. If you want to see Cappadocia enveloped in snow, then you better book a flight for February. The month with the least number of tourists is December.
How long to stay?
I've only stayed 1 full day and 2 half days in Cappadocia and definitely feel that it isn't enough. If you have the time, three or four full days is a good starting point to get to know the region. Of course, if you want to add a lot of activities to your itinerary, you have to allot more time for your stay.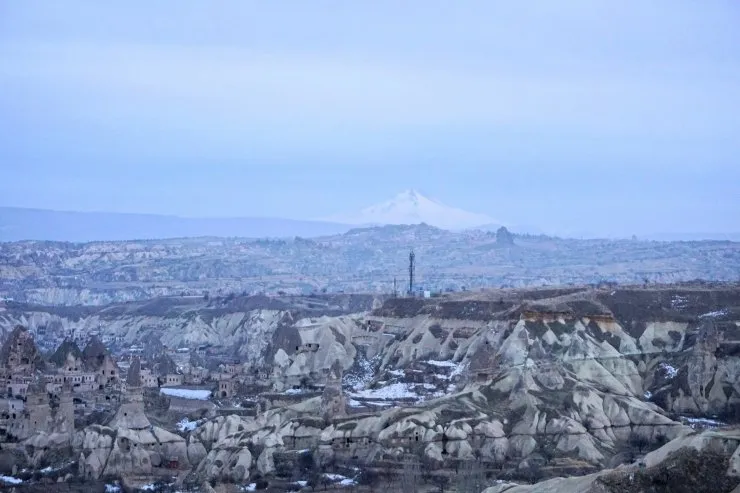 Do you need a visa for Turkey? (for tourism purposes)
There are 78 countries and territories that don't need a visa to enter Turkey, while the rest require an e-visa or sticker visa to enter. To check if your country is visa-free, click here. You can find information about e-visa here.
If your country is eligible for an e-visa, you can apply here.
Make sure that your passport is valid for at least 6 months and has at least 2 blank pages.
---
How to get to Cappadocia?
By Air: It is easy to get a flight from different cities in Turkey to Cappadocia. There are two airports you can choose from – Nevşehir Kapadokya Airport (NAV) and Kayseri Erkilet International Airport (ASR).
Airlines flying to NAV – Turkish Airlines, Anadolu Jet (operated by Turkish Airlines), or Pegasus Airlines
Airlines flying to ASR – Atlas Global, Turkish Airlines, Anadolu Jet, or Pegasus Airlines
We took a flight from Istanbul Sabiha Gokcen Airport (SAW) to Nevsehir via Anadolu Jet. The flight takes more than one hour. Check here for Istanbul to Cappadocia flights.
By Land: If you're fond of long bus rides, you can take an overnight bus (around 10 – 12 hours) from Istanbul, Pamukkale, Ankara or Denizli
How to get to your hotel from Nevsehir Airport?
Airport shuttles are available from Nevsehir Airport which will take you to your hotel. You can either book it straight from your hotel or via the following companies.
One way shuttle is 25 TL.
Where to stay in Cappadocia?
Because Cappadocia is one of the most famous tourist destinations in Turkey, there are plenty of different kinds of accommodation available. But since you're taking this trip, why not experience what it is like to stay in a cave hotel?
You'll get to sleep inside one of the carved fairy chimneys that the region is famous for.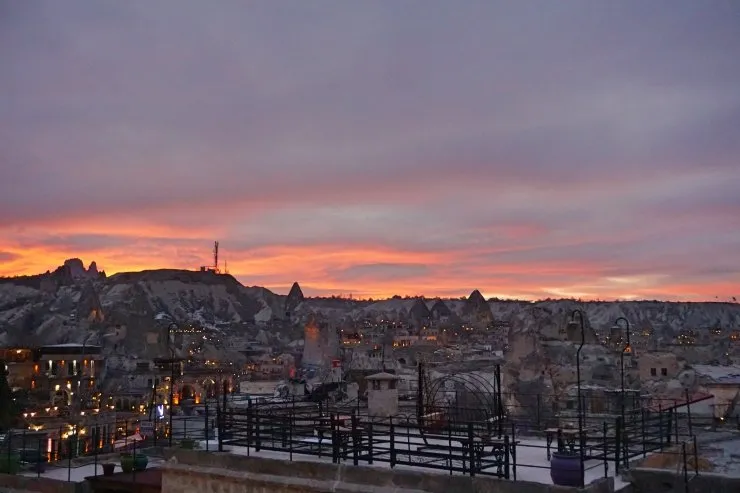 We stayed at Artemis Cave Suites and it's definitely one of the memorable hotel stays I've had in my travels. The hotel is located in Goreme where there are plenty of cave hotel options. [Click here to check availability and price]
You can also choose to stay in Uchisar, Urgup, or Ortahisar.
Check Cappadocia hotels here:
Where to eat
During the 2 days we stayed in Cappadocia, we managed to try these four restaurants:
Organic Cave Kitchen – This was the first restaurant we saw after the downhill road from Artemis Cave Suites to Goreme town centre. Since it was freezing cold, the warmth inside welcomed us. They gave us free mezze and bread while waiting for our orders.
Our main course was good but the dessert was even better. The Chocolate Souffle was definitely the highlight of our meal even though I almost burned my tongue.
I imagine the outdoor seating would be nice on warmer days.
Star Restaurant – This was our lunch stop before we hiked Ihlara Valley during our Green Tour. We were asked to choose from the allotted menu and I chose Lentil Soup and Fish with Bulgur. I was expecting it to be bad but turned out to be good. The fish was tender and flaky and surprisingly, I liked the Bulgur that came with it.
Koy Evi Restaurant – This restaurant is located beside our hotel and since we were so tired from the day's activities, we opted to not go far and just order a quick dinner here.
You can order meat to be freshly grilled so we ordered grilled chicken, salad, and rice. They also have local wine so I opted to try it as well.
TIP: They have been making wine in Cappadocia since the Hittite era so be sure to have a taste of the local wine!
Viewpoint Cafe and Restaurant – We were looking for a restaurant with a nice view of Goreme and ended up here at Viewpoint. We were the only ones on the topmost floor so we ended up having a quiet lunch with a view of the fairy chimneys, the town, and the few balloons that flew in the afternoon.
Other restaurants that are highly recommended are the following:
My Mother's Restaurant – Great views with good food and service.
Topdeck Cave Restaurant – This family-run establishment uses local ingredients from farmers. Reservation is recommended especially in peak months.
Seten Restaurant – Offers Anatolian cuisine and homemade wines.
Ziggy Cafe – Try their mezze and chicken skewers.
Check out these other food-related tours in Cappadocia:
What to see and do in Cappadocia
Hot Air Balloon Ride
Indeed the #1 activity in Cappadocia is the Hot Air Balloon Ride over the unique landscape. It is a once-in-a-lifetime experience for most visitors because this can be quite costly depending on the duration and size of the balloon.
Balloons fly in the early morning, before sunrise so that passengers can experience the changing of the sky's colors and enchanting sunrise over Cappadocia.
It is a highly recommended experience and I implore you to choose wisely which balloon operator you'll book with. After countless hours of scouring and researching the internet, I settled on Royal Balloon and can only say good things about them and our experience.
We were picked up from our hotel, given our freebies (souvenirs), ate a buffet breakfast at their HQ, transported to the flight site, and had free Wi-Fi during the flight, experienced and funny pilot, and a smooth landing thanks to the ground crew, post-flight champagne, medal, and snacks, and transport back to our hotel.
You have to consider the following things when choosing:
transfer to and from hotel
quality of breakfast
experience of pilots
quality of balloon
how big the basket is
flight duration (60 or 90 minutes)
Do take note that hot air ballooning is dependent on the weather and the wind conditions. Launch sites and landing sites are different. Hot air balloon flights can be canceled for the day so make sure to stay in touch with your tour operator.
Cappadocia tours
I am usually a fan of exploring on my own but in Cappadocia, tours or renting your private vehicle is necessary due to the widespread location of the attractions. It is just not possible to see it all on foot.
There are usually three kinds of day tours in Cappadocia: Green, Red, and Blue. Although nowadays there are more kinds of tours and you can even book a customized tour depending on your preferences.
The Red tour usually focuses on the central area of Cappadocia including Uchisar Castle, Goreme Open Air Museum, and Love Valley just to name a few. As for the Blue tour, visitors can experience one of the underground cities and the old Greek towns.
Tours include a professional tour guide, driver, pick-up and drop-off, lunch meal (excluding drinks), entrance fees, and a luxury coach van.
We chose the Green Tour and our itinerary included the following:
Underground City (Derinkuyu or Kaymakli)
Selime Monastery
Lunch at the entrance of Ihlara Valley
Hiking at Ihlara Valley (4 km/2.5 miles)
Pigeon Valley
Onyx Factory
Goreme viewpoint
120 TL per person
starting 09:15H to 17:30H
*itinerary may vary depending on the tour agency
ATV ride
Because of the out-of-this-world terrain, ATV (quad bike) tours are also a hit in Cappadocia. Escorted ATV tours can range from 2 to 8 hours depending on your preference.
Horseback riding
Cappadocia is also known as the Land of Beautiful Horses, derived from its ancient name, Katpatuka. As such, visitors can also opt to join activities such as Horseback tours.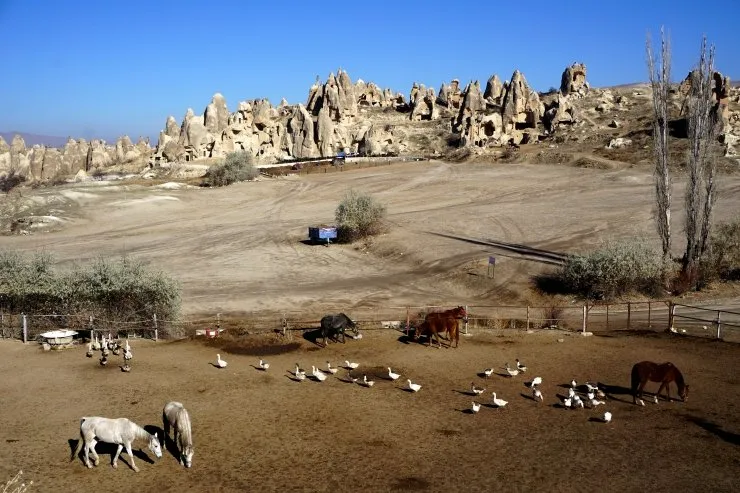 A tour guide will be assigned to the group and the tour usually last from an hour to four hours for the daily rides. Some agencies also offer longer rides and even multi-day tours or full moon rides. An hour of riding starts at 20 euros per person.
Shopping
Especially in Goreme, you would find a lot of shops selling local handicrafts such as pottery from Avanos, handwoven carpets and kilim, jewelry, and, tiles. Tourists can also buy local wines as well as the usual travel souvenirs such as ref magnets, T-shirts, and the like.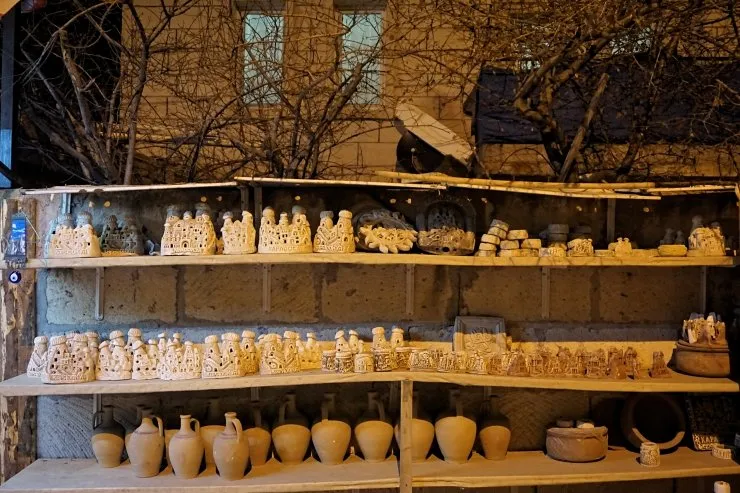 Do you want to know what is that Instagram-famous carpet shop you see on social media? It's Gallerie Ikman!
We unknowingly passed by it and shot a pic or two outside but the inside is a magic carpet dream. They charge for photos and videos, as far as I know.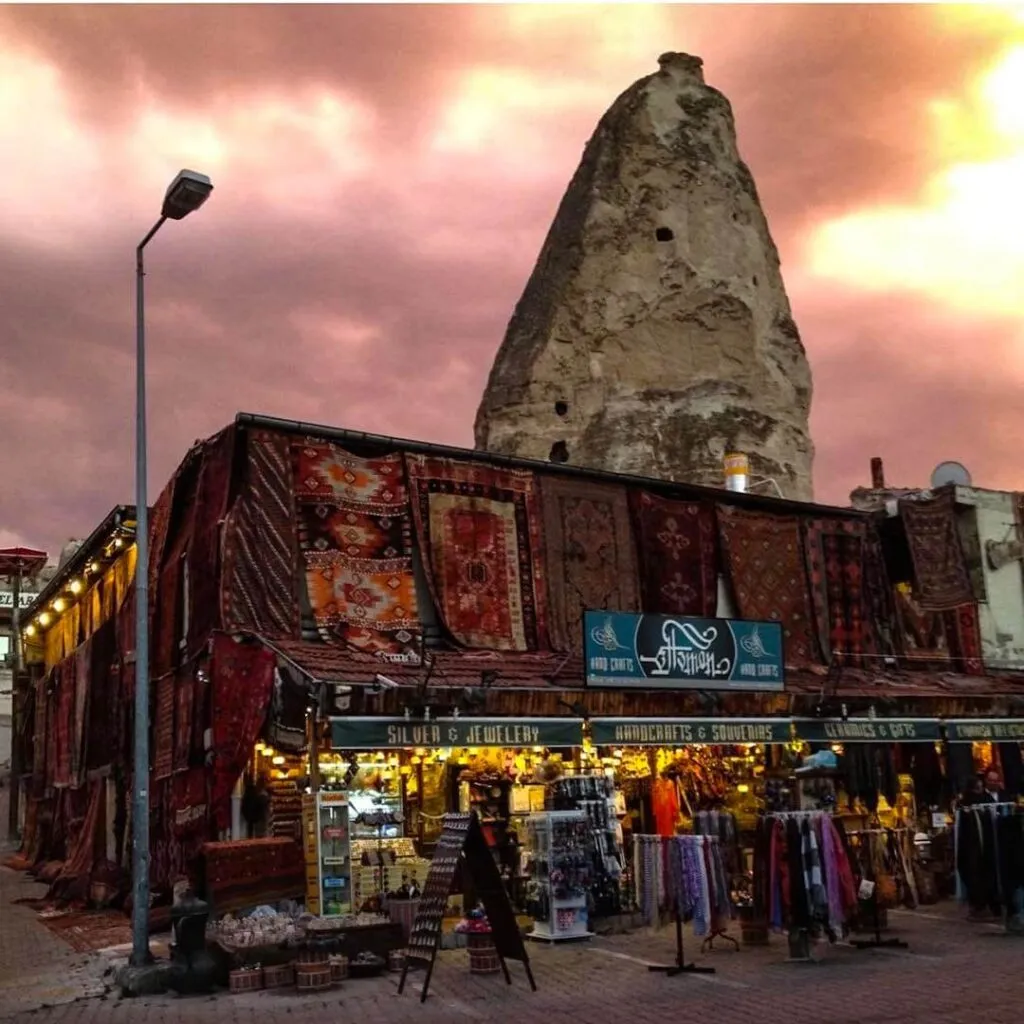 Hiking and Trekking in Cappadocia
One of the famous activities is getting up close to the unique rock formations of Cappadocia through hiking or trekking. Although still open during winter, the valleys are better hiked or trekked during the spring to autumn.
Spring and summer are the best seasons if you want to see different varieties of flora in full bloom along the route. And if you want to see fruit-bearing plants, better go during summer or autumn.

A lot of tour operators offer hiking tours. Always remember to dress accordingly and to bring provisions such as sunscreen, enough water, and food to sustain you throughout the hike.
Most popular trekking routes:
Bağlıdere Valley – from Uchisar to Cavusin; includes Love Valley
Güvercinlik Valley – from Uchisar to Goreme; also known as Pigeon Valley
Monks Valley – includes the famous Paşabağ Fairy Chimneys
Red and Rose Valley – famous for the colors of the rock formations
Devrent Valley – also known as Imagination Valley
Ihlara Valley – this gorge runs along Melendiz River
Best views in Cappadocia
If you want the best vantage point overlooking the region, head to the Fortress of Uchisar, more commonly known as Uchisar Castle. You can head here for both sunrise and sunset.
2. Pigeon Valley [Click for Google Maps]
This was one of the stops on our Green Tour and you can not only see the pigeon houses, but also a view of the Uchisar Castle in the distance. On the other horizon, you can also see Mt Erciyes.
3. Ortahisar – Red Valley
This viewpoint is popular for sunset and for panoramic views, although I hear that it is also good for sunrise views.
4. Love Valley [Click for Google Maps]
If you want to get up close with the tuff pillars which look like elongated mushrooms (and you know what), then a visit to Love Valley is a must.
5. Goreme – Sunset Point [Click for Google Maps]
Also known as Lover's Hill, this viewpoint is within walking distance from our hotel, Artemis Cave Suites, which was located just below. But because of the uphill road and the cold, we opted to stay instead and head to the upper floors of our hotel.
If you're visiting during warmer days, best to head up there before sunset so you can snag a good seat to wait for the changing of colors during sunset. It is also a good vantage point for sunrise and watching the hot air balloons against the landscape of Goreme.
6. Goreme Panorama [Click for Google Maps]
This was the last stop in our Green Tour, on the way back to Goreme. There were shops and cafe before you reach the edge of the viewpoint but when we arrived, they are closed already. There are seats facing a panoramic view of the unique landscape, dotted with fairy chimneys and a tree filled with evil eyes on the side.
7. Cave Hotels – Of course, this list wouldn't be complete without the famous hotels that you see on Instagram. They have a setup that is perfect for when the hot air balloons fly in the morning. 
The most popular one is Sultan Cave Suites followed by Museum Hotel.
Other cave hotels worth checking out are:
Cappadocia Entrance Fees (2019)
Goreme Open Air Museum – 45 TL + 10 TL (Dark Church); Audio Guide 15 TL; parking 5 TL
Uchisar Castle – 8 TL
Zelve Open Air Museum – 15 TL
Derinkuyu Underground City – 35 TL
Ortahisar Castle – 5 TL
Cavusin Church – 10 TL
Kaymakli Underground City – 35 TL
Ihlara Valley – 30 TL
Source: muze.gov.tr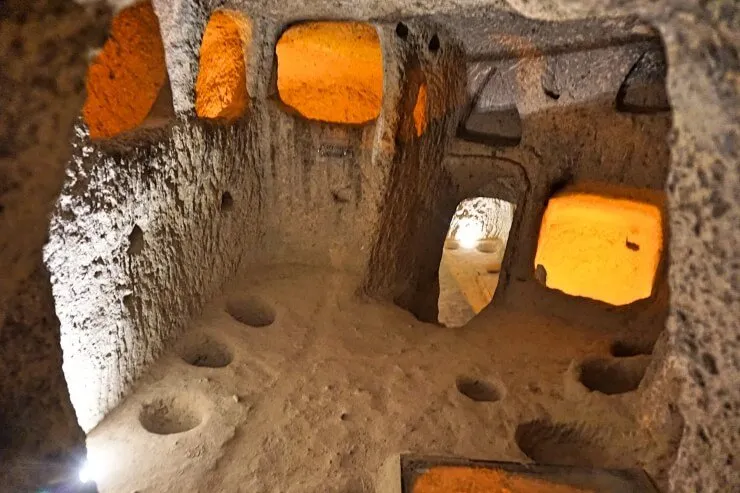 Our 2 days itinerary
Day 1 (half day)
15:55H ETD Istanbul Sabiha Gokcen Airport
17:10H ETA Nevsehir Cappadocia Airport
Check-in Artemis Cave Suites
Dinner at Organic Cave Kitchen
Walk around Goreme town center
Day 2
06:25H pick-up time from the hotel
Breakfast and briefing at Royal Balloon HQ
shuttle back to the hotel
Pick-up by shuttle to tour operator's office
start of Green Tour
end of Green Tour
Dinner at Koy Evi restaurant
Day 3 (half day)
Breakfast at Artemis Cave Suites
walk around Goreme town center
Lunch at Viewpoint restaurant
Back to hotel/shuttle to the airport
1740H ETD Nevsehir Cappadocia Airport
18:55H ETA Istanbul Sabiha Gokcen Airport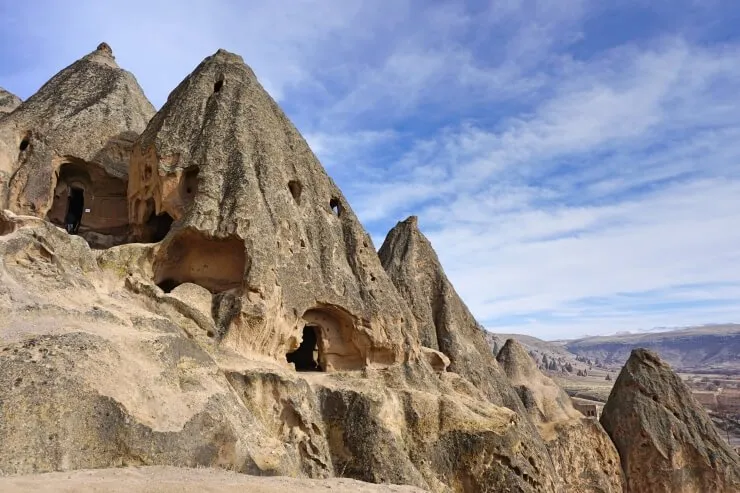 Expenses and budget
You can see in the photo below the list of expenses for our 2 days in Cappadocia, Turkey. Please take note that prices are as of December 2017, and as such, rates may be different now.
We booked our flights with Anadolu Jet 3 months before our trip. We booked our hotel, Artemis Cave Suites via Booking.com, 2 months before the trip.
Our hot air balloon ride was through Royal Balloons. You can check the updated rates here.
Since we have different food and beverage preferences, our food costs may differ. If you are on a budget, there are still lots of affordable restaurants in Cappadocia to choose from.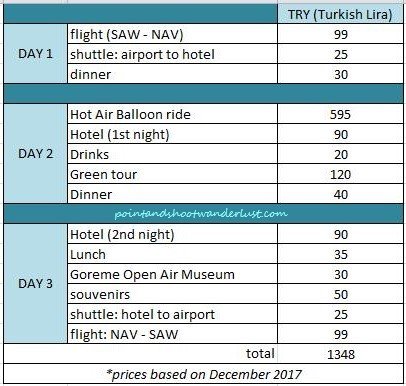 Cappadocia travel tips
Tipping
Giving a tip for service is customary but not required. Don't forget to bring small bills of Turkish Lira with you. You can give tips for the following: hotel, restaurant, and tour guide.
Internet
To stay connected throughout our stay in Turkey, we rented a pocket WiFi from AllDay WiFi. We didn't have a problem with the connection and I even used it inside the cave room (when the hotel WiFi was spotty) and up in the air while in the hot air balloon!
Note: Royal Balloon provides free WiFi during the hot air balloon flight!
The currency you need for traveling in Cappadocia is the Turkish Lira.
Check the current conversion here.
There are lots of ATMs in Cappadocia but make sure to inform your bank that you'll be traveling overseas. Also, take note of the bank charges when you withdraw using ATM and the daily maximum limit.
What to pack
If you have hiking shoes, better use them, especially when exploring the fairy chimneys. The surface can be quite smooth for sneakers and it was one of the reasons why I didn't pursue the top of Selime Monastery (I kept slipping).
If you're going in winter, you better pack warm and dress in layers so that you can just take off one layer at a time when the temperature rises during the day. If you're going in summer, better pack lightweight clothes for you'll definitely work up a sweat.
Turkey uses Type F (two round prongs) for plug and outlet so if you don't have the same, better bring a travel adapter.
A good camera, of course, to capture all of your priceless moments.
Where to go next?
---
Do you want to go to Cappadocia?
LIKED IT? PIN IT!