If you're traveling to Baguio City in a big group and looking for an affordable restaurant to dine in, GoodTaste Restaurant is definitely a perfect option. For sure, your Baguio experience won't be complete without trying this restaurant!
Good Taste Restaurant is a well-known and beloved institution in Baguio City, Philippines.
It has been serving a wide range of delicious Filipino and Chinese cuisine for over 50 years, and it's considered one of the best and busiest restaurants in the city.
Because of its popularity, the restaurant is usually full and there's a long queue of people waiting to dine in, especially during weekends and holidays.
The menu features a wide variety of dishes, including Filipino favorites like crispy pata, sinigang, bulalo, and lumpia. They also serve dishes in family-style platters and combo meals.
What is GoodTaste Baguio famous for?
The popular restaurant is famous for serving affordable homecooked style Filipino and Chinese fusion cuisine, especially to big groups of people like families, and friends traveling in Baguio City or living nearby.
They also have a bakeshop inside that offers a selection of breads and pastries.
Its affordable price point and big servings are just some of its selling points.
Recently, they also added robot waiters which you'll now often see in videos uploaded on social media.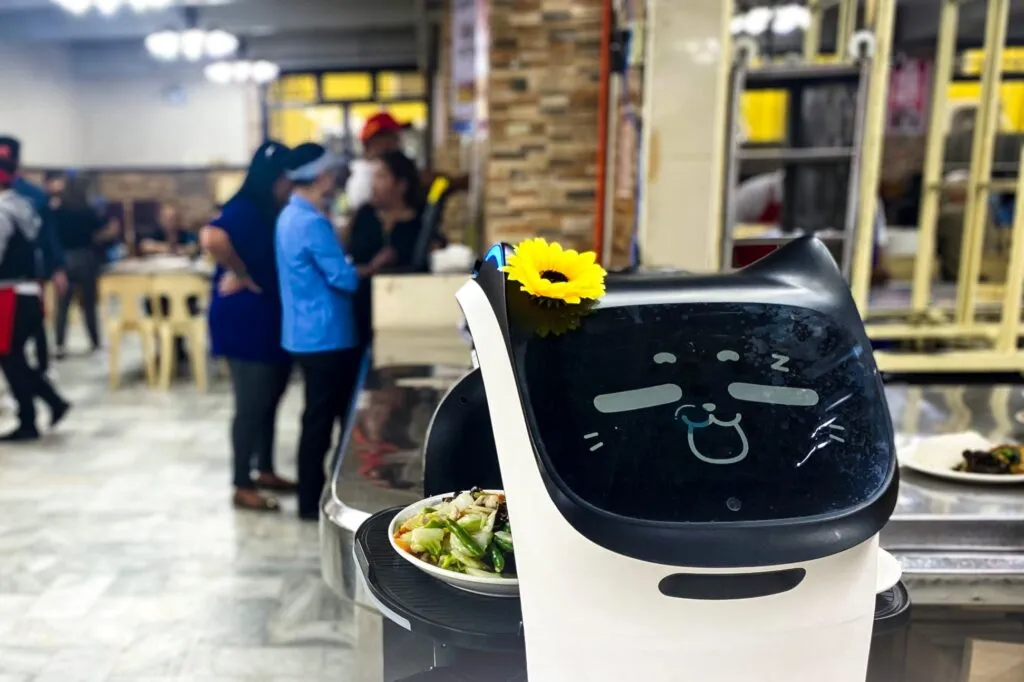 GoodTaste Menu and Price List – Otek Branch
*updated April 2023
Fast Moving Items (Family Style, Soup and Pancit)
| | | |
| --- | --- | --- |
| DISHES | PRICE 1 (Php) | PRICE 2 (Php) |
| Buttered Chicken | ₱ 280 | ₱ 540 |
| Hot & Spicy Buttered Chicken | ₱ 305 | ₱ 580 |
| Garlic Buttered Chicken | ₱ 290 | ₱ 560 |
| Fried Chicken | ₱ 260 | ₱ 500 |
| Crispy Pata | ₱ 605 | |
| Crispy Shank | ₱ 605 | |
| Lumpia Shanghai | ₱ 315 | |
| Fried Shumai | ₱ 265 | |
| Halabos na Hipon | ₱ 325 | |
| Pork Hongba | ₱ 330 | ₱ 625 |
| Pata Tim | ₱ 550 | |
| Hongba Pork Ribs | ₱ 540 | |
| Grilled Spare Ribs | ₱ 540 | |
| Inihaw na Liempo | ₱ 320 | |
| Sinigang na Hipon | ₱ 265 | ₱ 495 |
| Birds Nest Soup | ₱ 230 | ₱ 440 |
| Sinigang na Baboy | ₱ 245 | ₱ 420 |
| Bulalo | ₱ 570 | |
| Pancit Bihon | ₱ 255 | |
| Miki Bihon | ₱ 255 | |
Group Meals (Suggested Bundles)
| | |
| --- | --- |
| GROUP MEAL A (good for 6 pax) | PRICE (Php) |
| 5 Plain Rice | ₱ 1,315 |
| Buttered Chicken (Half) | |
| Lumpia Shanghai | |
| Lechon Chopsuey | |
| Miki Bihon | |
| GROUP MEAL B (good for 6 pax) | ₱ 1,305 |
| 5 Plain Rice | |
| Garlic Buttered Chicken (Half) | |
| Beef Chopsuey | |
| Lechon Kawali Guisado | |
| Miki Bihon | |
| GROUP MEAL C (good for 12 pax) | ₱ 2,955 |
| 10 plain rice | |
| Bulalo | |
| Buttered Chicken (half) | |
| Steamed Chicken (half) | |
| 2 Lechon Beans | |
| Miki Bihon | |
| 2 Inihaw na Liempo | |
| GROUP MEAL D (good for 12 pax) | ₱ 3,055 |
| Birds Nest Soup (small size) | |
| Bird Nest Soup (small size) | |
| 10 Plain Rice | |
| Garlic Buttered Chicken (half) | |
| Fried Chicken (half) | |
| 2 Lechon Beans | |
| 2 Lumpia Shanghai | |
| Miki Bihon | |
Combo Meals
| | |
| --- | --- |
| DISHES | PRICE (Php) |
| GoodTaste Buttered Chicken Rice | ₱ 210 |
| GoodTaste Fried Rice | ₱ 190 |
| GoodTaste Rice | ₱ 180 |
| Grilled Spare Ribs Rice | ₱ 245 |
| Fish, Shrimp Tofu Rice | ₱ 200 |
| Beef Ampalaya Rice | ₱ 170 |
| Beef Broccoli Rice | ₱ 190 |
| Beef Chopsuey Rice | ₱ 170 |
| Beef Pares Rice | ₱ 170 |
| Chicken Broccoli Rice | ₱ 170 |
| Fried Rice with Beef | ₱ 170 |
| Shanghai Lumpia Rice | ₱ 155 |
| Steamed Chicken Rice | ₱ 165 |
| Tofu Vegetable Rice | ₱ 150 |
| Lechon Ampalaya Rice | ₱ 155 |
| Lechon Beans Rice | ₱ 170 |
| Lechon Broccoli Rice | ₱ 170 |
| Lechon Chopsuey Rice | ₱ 165 |
| Lechon Tofu Rice | ₱ 155 |
| RICE | |
| Fried Rice (Good for 6) | ₱ 300 |
| Fried Rice (Good for 3) | ₱ 180 |
| Fried Rice | ₱ 70 |
| 1/2 Fried Rice | ₱ 35 |
| White Rice | ₱ 30 |
| 1/2 White Rice | ₱ 16 |
| MAMI | |
| Beef Mami | ₱ 130 |
| Chicken, Beef & Wanton Mami | ₱ 140 |
| Lechon Mami | ₱ 130 |
| Wanton Mami | ₱ 130 |
Soups
| | | |
| --- | --- | --- |
| | Good for 3 | Good for 6 |
| Sinigang na Baboy | ₱ 245 | ₱ 420 |
| Sinigang na Hipon | ₱ 265 | ₱ 495 |
| Bulalo (Good for 4) | ₱ 570 | |
| Birds Nest Soup | ₱ 230 | ₱ 440 |
| Molo Soup | ₱ 200 | ₱ 380 |
| Hototay Soup | ₱ 200 | ₱ 380 |
| Egg Soup (with grindpork) | ₱ 180 | ₱ 350 |
| GoodTaste Lugaw (good for 1) | ₱ 150 | |
Family Style
| | |
| --- | --- |
| DISHES | GOOD FOR 4 |
| Halabos na Hipon | ₱ 325 |
| Tofu with Shrimp | ₱ 305 |
| Adobong Hito | ₱ 285 |
| Ginataang Hito | ₱ 285 |
| Sweet and Sour Fish Fillet | ₱ 325 |
| Fish Fillet with Tofu | ₱ 280 |
| Beef Ampalaya | ₱ 295 |
| Beef Broccoli | ₱ 325 |
| Beef Chopsuey | ₱ 295 |
| Beef Curry | ₱ 305 |
| Beef Steak | ₱ 310 |
| Chicken Chopsuey | ₱ 285 |
| Chicken Curry | ₱ 285 |
| Chopsuey | ₱ 315 |
| Fried Shumai Pork (Good for 6) | ₱ 265 |
| Hot & Spicy Tokwa't Baboy | ₱ 265 |
| Inihaw na Liempo | ₱ 320 |
| Mixed Pulutan | ₱ 285 |
| Pinakbet | ₱ 275 |
| Shanghai Lumpia | ₱ 315 |
| Sweet and Sour Pork | ₱ 295 |
| Sweet and Sour Chicken | ₱ 295 |
| Tofu with Vegetable | ₱ 255 |
| Lechon Ampalaya | ₱ 285 |
| Lechon Broccoli | ₱ 295 |
| Lechon Beans | ₱ 315 |
| Lechon Chopsuey | ₱ 315 |
| Lechon Kawali Guisado | ₱ 315 |
| Lechon Tofu | ₱ 285 |
| | |
| --- | --- |
| | Good for 5 |
| Crispy Pork Shank | ₱ 605 |
| Crispy Pata | ₱ 605 |
| Patatim | ₱ 550 |
| Pork Hongba | ₱ 625 |
| Pork Hongba (half) | ₱ 330 |
| Hongba Pork Ribs | ₱ 540 |
| Grilled Spare Ribs | ₱ 540 |
| | |
| --- | --- |
| PANCIT | Good for 4 |
| Sotanghon | ₱ 270 |
| Canton | ₱ 270 |
| Miki Bihon | ₱ 255 |
| Bihon | ₱ 255 |
| | | |
| --- | --- | --- |
| | Good for 4 | Good for 8 |
| Hot & Spicy Garlic Buttered Chicken | ₱ 305 | ₱ 580 |
| Buttered Chicken | ₱ 280 | ₱ 540 |
| Garlic Buttered Chicken | ₱ 290 | ₱ 560 |
| Fried Chicken | ₱ 260 | ₱ 500 |
| Steamed Chicken | ₱ 280 | ₱ 540 |
| | | |
| --- | --- | --- |
| LOMI | Good for 3 | Good for 6 |
| Lomi with Quail Eggs | ₱ 230 | ₱ 335 |
| Beef Lomi with Quail Eggs | ₱ 235 | ₱ 340 |
| Chicken Lomi with Quail Eggs | ₱ 230 | ₱ 335 |
| | | | |
| --- | --- | --- | --- |
| PARTY TRAYS | Good for 12 | Good for 16 | Good for 25 |
| Bihon | ₱ 805 | ₱ 1070 | ₱ 1610 |
| Miki Bihon | ₱ 805 | ₱ 1070 | ₱ 1610 |
| | | |
| --- | --- | --- |
| PARTY TRAYS | Good for 12 | Good for 20 |
| Canton | ₱ 860 | ₱ 1430 |
| Sotanghon | ₱ 860 | ₱ 1430 |
Desserts and Drinks
| | |
| --- | --- |
| DESSERT | PRICE |
| Halo-halo | ₱ 120 |
| Buko Pandan Salad | ₱ 100 |
| Mais con Yelo | ₱ 80 |
| Cream Puff | ₱ 30 |
| Leche Flan (good for 5) | ₱ 165 |
| Cheese Cupcake | ₱ 35 |
| Carrot Pineapple Cupcake | ₱ 35 |
| Carrot Cream Cheese Cake | ₱ 70 |
| Double Blueberry Muffin | ₱ 50 |
| P.U.M. Muffin | ₱ 50 |
| Choco Walnut Muffin | ₱ 50 |
| Streamline Vanilla | ₱ 50 |
| Ube Yema Slice | ₱ 60 |
| Red Velvet Slice | ₱ 100 |
| Royal Glaze | ₱ 100 |
| Blueberry Cream Cheese | ₱ 100 |
| Dulce de Leche | ₱ 100 |
| Peach Graham Cake | ₱ 80 |
| Hopia Ube | ₱ 50 |
| Cookie Crumble Mousse Slice | ₱ 65 |
| Cheesy Pastillas Slice | ₱ 60 |
| Black Forest Slice | ₱ 75 |
| Egg Tart | ₱ 45 |
| Egg Pie | ₱ 60 |
| Flavored Donuts (Caramel, Cheese, Custard, Strawberry, Salted Caramel) | ₱ 40 |
| Ham & Cheese Croissant | ₱ 70 |
| Sausage Croissant | ₱ 70 |
| Ice cream 2 scoops (Chocolate, Strawberry, Mango, Ube, Vanilla) | ₱ 60 |
| Milo Mousse | ₱ 55 |
| Korean Cream Cheese Bun | ₱ 70 |
| Empanada (Pork/Chicken) | ₱ 50 |
| | |
| --- | --- |
| DIMSUM | PRICE |
| Siopao Asado | ₱ 60 |
| Siopao Bola-bola | ₱ 60 |
| Pork Shumai | ₱ 60 |
| | |
| --- | --- |
| HOT BEVERAGE | PRICE |
| Brewed Coffee with Milk | ₱ 65 |
| Brewed Coffee with Creamer | ₱ 65 |
| Half-half (coffee and milk) | ₱ 65 |
| Hot Milo with Milk | ₱ 60 |
| Hot Cocoa with Milk | ₱ 65 |
| Hot Milk | ₱ 55 |
| Hot Tea with Milk | ₱ 55 |
| Hot Tea with Calamansi | ₱ 55 |
| Hot Tea | ₱ 50 |
| Hot Calamansi | ₱ 55 |
| Flavored Tea (Chamomile, Jasmine, English Breakfast Tea, Peppermint) | ₱ 55 |
| Hot Water | ₱ 20 |
| | |
| --- | --- |
| COLD BEVERAGE | PRICE |
| Iced Tea, Blue Lemonade 3 Litres | ₱ 300 |
| Cucumber Lemonade 2 Litres | ₱ 200 |
| Lemonade 20 oz | ₱ 65 |
| Lemonade 16 oz | ₱ 55 |
| Iced Coffee 16 oz | ₱ 65 |
| Mango Juice | ₱ 65 |
| Buko Juice | ₱ 50 |
| Calamansi Juice | ₱ 50 |
| Pineapple Juice (Unsweetened) in can | ₱ 55 |
| Pineapple Juice (Sweetened) in can | ₱ 55 |
| Bottled Water 500 ml | ₱ 40 |
| Bottled Water 350 ml | ₱ 30 |
| Pepsi, 7-Up, Mountain Dew 1.5 Litre | ₱ 150 |
| Mountain Dew 300 ml | ₱ 37 |
Cakes
| | |
| --- | --- |
| RECTANGULAR CAKES | PRICE |
| Carrot Cream Cheese 9×13 | ₱ 800 |
| Cookie Crumble Mousse 9×13 | ₱ 600 |
| Peach Graham 10.5×15.5 | ₱ 1400 |
| Red Velvet 12×16 | ₱ 1200 |
| Royal Glaze 12×16 | ₱ 1200 |
| Streamline Chocolate 12×16 | ₱ 800 |
| Streamline Vanilla 12×16 | ₱ 800 |
| Ube Yema Cake 12×16 | ₱ 999 |
| Cheesy Pastillas Cake 12×16 | ₱ 999 |
| ROLLED CAKES (Half 8′ | Whole 16′) | PRICES |
| Blueberry | ₱ 215 | ₱ 410 |
| Chocolate | ₱ 195 | ₱ 380 |
| Strawberry | ₱ 215 | ₱ 410 |
| Mocha | ₱ 195 | ₱ 380 |
| Caramel | ₱ 195 | ₱ 380 |
| Ube | ₱ 215 | ₱ 410 |
| Cheesy Pastillas Cake Roll | ₱ 430 |
| ROUND CAKES | PRICE |
| Ube | ₱ 450 |
| Black Forest | ₱ 580 |
| Vanilla | ₱ 400 |
| Strawberry | ₱ 450 |
| The Mansion | ₱ 500 |
| Chocolate | ₱ 450 |
| Dulce de Leche | ₱ 980 |
| Blueberry Cream Cheese | ₱ 980 |
Almusal (available from 6 am to 10 am only)
| | |
| --- | --- |
| BREAKFAST | PRICE |
| Almusal 1: Fried Chicken, Corned Beef, Garlic Rice and Egg | ₱ 170 |
| Almusal 2: Beef Tapa, Garlic Rice and Egg | ₱ 170 |
| Almusal 3: Daing na Bangus, Corned Beef, Garlic Rice and Egg | ₱ 170 |
| Almusal 4: Shanghai Lumpia, Corned Beef, Garlic Rice and Egg | ₱ 170 |
| Garlic Rice | ₱ 45 |
| 1/2 Garlic Rice | ₱ 25 |
Complimentary drinks (for almusal) to choose from:
Brewed coffee
Milo
Cocoa
Buko Juice
Soda 300ml
Iced Tea 12oz
Blue Lemonade 12oz
Cucumber Lemonade 12oz
Bottled Water 300 ml
GoodTaste Baguio address
Corner Carino Street and Otek Street, Baguio City
GoodTaste Restaurant Opening Hours
Otek Branch: 6 am to 10 pm
Where to eat in Baguio
Cover image credit: https://www.facebook.com/gtrotekbaguiocity