Doha, Qatar – Beside Souq Waqif and behind Emiri Diwan (Amiri Diwan) stands four restored historic heritage houses that play an important part in Qatar's history. Msheireb Museums, a project of Msheireb Properties, offers not just a look into Qatar's past but also a peek into the future of one of the richest countries in the Gulf. One of the houses also tackles a sensitive worldwide issue still present until today.




One Friday afternoon while everyone is hiding from the sun, I asked one of my friends in Doha to come with me and to visit this museum that has long been on my "to explore" list. At that time, taxi drivers were still not aware of the area, resulting in a missed stop. Walking around, it seemed like there was no one around the museum grounds save for a few construction workers passing by.
Read Next: What to see and do for FREE in Doha, Qatar
Msheireb Museums: Company House
We started off with the Company House as it was the nearest to us, not knowing it was already the second house. After being given a free brochure and bottled water, we were encouraged by the reception staff to explore at our own pace.
Starting with a rusty pipeline fixed into the wall, we read about the discovery of oil in the 1930's and its impact on the young country. The connecting room was filled with artifacts and then opened to an intricately designed high ceiling room with white statues scattered throughout the whitewashed room.
"The Courtyard" as the museum calls it, depicts the life of workers who worked for the oil company. The hard workers who knew little of how the "black gold" will change the course of the desert nation forever.
Msheireb Museums: Bin Jelmood House
Shadow projections welcomed us into the next house that led to a large open courtyard that felt like a zen garden.
That sense of peace was soon replaced with a heavy feeling as soon as we stepped inside the doorways.
It's not every day that you encounter a museum that talks about something often regarded as a taboo and a sensitive topic — Slavery.
A small clay tablet bearing a slave contract in an ancient language was the first that piqued my interest as soon as I stepped into the darkened room. Soon, the room was awash with colors and sounds as a video played, telling the history of slavery starting from the ancient civilizations. Slavery is one of the threads that connected the civilizations and the world.
The "room of spirits" as I call it, was the most goosebump-inducing exhibit as it was filled with long black vertical screens where slaves appeared and disappeared. The silence of the room and the sound effects made it more eery as you stare at the almost faceless beings in front of you.




From the Indian slave trade and the rest of the world, one will find the focus shifting to Qatar and how the lives of the enslaved helped shaped the history of the country.
"You cannot scream nor shed a tear", said one of the African slave taken from his homeland. As he recalled how they were crammed into a dhow boat and later on made to work either as a pearl diver, in date plantations, or as domestic servants, "each in debt to a master".
How I wished at that time that the local family who went inside spent more time to watch the video. Maybe then, more people would be aware of how slavery runs deep in our society.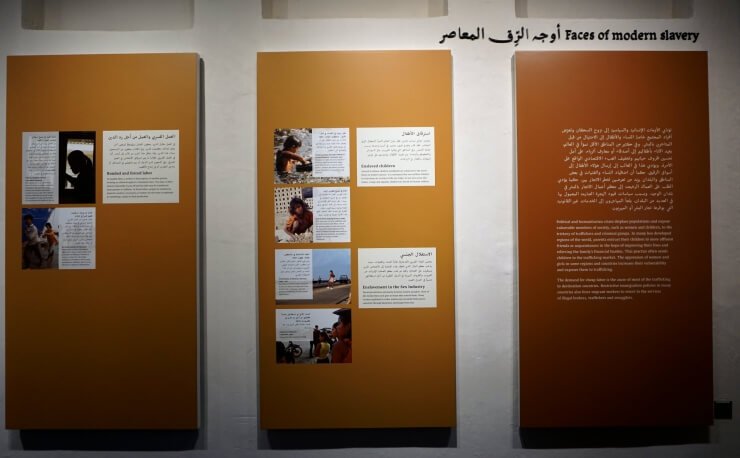 Bin Jelmood House doesn't just highlight the slave trade of the past but also its modern forms. Slavery may have been legally abolished but it still remains to be a global problem.
Visual exhibits showcase the faces of modern slavery – human trafficking, forced labor, sexual exploitation – a reality in most countries in the world to which the Gulf is no exception where contractual enslavement is a norm.




There is no happy ending but the exhibit ends in a sliver of hope by dedicating a space where visitors can make a personal commitment to the abolition of slavery in all its forms.
Walking past the beautiful courtyard on the way out, I shuddered as I imagined how it must have been almost a hundred years ago when Bin Jelmood kept this house full of slaves. But I am also thankful that they chose to educate people on the origins and modern forms of human exploitation.
Msheireb Museums: Mohammed Bin Jassim House
Crossing the street led us to the next house which was built by the son of the founder of modern Qatar, Sheikh Mohammed Bin Jassim Al-Thani‭. This gallery showcases the past, present, and the future of Msheireb, the historic heart of Doha, with its past reflecting the everyday life of Qataris and foreign workers.
Msheireb means a "place of drinking water", and its well was a focal point in the life of Qataris. The exhibits inside this house take you along to its origins, early development, transformation, and to its decline throughout the years.
Msheireb Properties also showcased their present and future plans for the historic downtown using interactive exhibits and scale models.
Msheireb Museums: Radwani House
Last but not the least is the house where you'll see what a typical Qatari house looks like back during the days when there was no electricity and modern conveniences in the city yet. You'll also see the excavations and how domestic and family life in Qatar has evolved throughout the years.
Too bad we didn't get to visit this last time but will certainly update when I visit again.
---
While Museum of Islamic Art is currently my favorite art museum in Qatar because of its architecture and art exhibits and National Museum of Qatar is currently still being constructed, a visit to Msheireb Museums has now become one of my memorable museum visits especially because they weren't afraid to talk about sensitive topics like slavery.
That is why you should visit these four heritage houses when you're in Qatar!
---

Msheireb Museums Visitor Information
Address: Msheireb Downtown
Location: Google Map
Opening Hours:
Monday – Thursday, Saturday 0900 H – 1700 H
Friday 1500 H – 2100 H
(Closed on Sundays)
Entrance fee: FREE
Free bottled water
Reserve your guided tour here
Wheelchair accessible
Personal photography is allowed




Alfai Restaurant
Location: Company House
Operating Hours:
Sat – Thurs 11 AM to 11:30 PM
Fri – Sat 12:30 PM to 11:30 PM
Ramadan timings: 6 PM to 1:30 AM
Instagram: @AlFaiQatar
---
Where to stay in Msheireb Downtown:
Alwadi Hotel Doha MGallery by AccorHotels
The new 5-star boutique hotel is just walking distance away from Msheireb Museums and Souq Waqif. The luxurious hotel has 213 rooms, 3 restaurants, 2 bars, and a lobby lounge. Spa and Fitness Center is also available.
---
Do you like visiting museums? What do you think of Msheireb Museums? 
---
LIKE IT? PIN IT!