Philippine Airlines, the flagship carrier of the Philippines and rated 4 Stars by Skytrax, is one of only two carriers servicing direct flights from Doha, Qatar to Manila, Philippines and vice versa (DOH-MNL & MNL – DOH).
It used to be that older models of Airbus 330-300 were used for this line, as experienced in my Doha to Manila flight, so I was pleasantly surprised that they also use the newer and reconfigured model.
A330 has a twin-engine and twin aisles, with a maximum capacity of 363 passengers. The reconfigured version has a 2-4-2 seat configuration (whereas the old has a 3-3-3), with each seat having its own personal IFE.
---
As one of the richest countries in the world, that means Qatar is also one of the prime choices for Overseas Filipino Workers in the Middle East. And that is why almost all of the passengers who take the Manila (MNL) to Doha (DOH) and Doha to Manila routes are expats.
Most of them are on vacation, like me! And this is my personal review of the Philippine Airlines A330-300 flight from Manila to Doha (Economy Class).
Philippine Airlines Manila to Doha: Check-in and boarding
My flight was departing from Ninoy Aquino International Airport Terminal 1 (NAIA 1) and as usual, there were long queues to get inside.
Only those who have a flight booking can go inside the check-in area. Since the queue wasn't that fast, I did mobile check-in while I was in line.
You are allowed to choose a seat but when I was choosing there was only a handful remaining.
Tip
You can
Check-In online
between 24 hours to 1 hour and 15 minutes before international flight departure.
Before the check-in counters, however, ground staff check the passengers' QID and OEC (Overseas Employment Certificate) along with their passport and booking details. In my experience, they were strict about baggage allowance and even weigh your carry-on bag.
Tip
One cabin bag each is allowed per passenger, maximum of 7kg. Handbags, cameras, and laptops can be carried separately.
I was fortunate to be allowed to change my seat since I explained my unfortunate online check-in. Afterward, I was referred to another counter to get my voucher for terminal fee reimbursement. This will be given to the kiosk near the boarding area where you will exchange the voucher for cash. OEC needs to be presented as well.
The boarding area was packed with OFWs and minutes before the boarding time printed on the ticket, we were informed that the aircraft is late due to a late turnaround.
As per ground personnel, this was a full flight so they also asked for passenger volunteers who will agree to their hand-carry luggage become check-in baggage instead.
I commend that the ground crew was strict in the order of boarding. Seats at the back were the first to board, while of course, the business class was free to board anytime.
Since this is also the Philippines, expect that flights will also have to queue on the runway for take-off.
Philippine Airlines Manila to Doha: seat and the flight
I was assigned to the exit seat by the window, which was also near the lavatories. It was nice that the toilets were close by but it can also become a disadvantage when you are a light sleeper. I highly suggest using the sleeping mask and listening to music if you want to have undisturbed sleep.
On the seat were amenities still in sealed packaging: blanket, pillow, and headphones. I've heard horror stories of how some airlines reuse the blankets without washing but this seemed to be laundered and haven't been used.
Toiletries are available inside the lavatory but a kit is also given to all economy passengers which includes an eye mask, toothbrush, and toothpaste.
In Economy class, the seats are 18 inches in width and can recline up to 6 inches.
In-flight meals
Inflight meals on all international flights are complimentary. You can also choose from a variety of drinks and passengers aged 18 years old and above can choose to be served alcoholic drinks as well depending on the flight.
For the first hot meal, I chose the Fish option. It was Fish Fillet with fried rice, served with coleslaw and bread on the side. For dessert, a small bar of Cadbury Milk Chocolate.
The fish was okay, although it would have been better if they offered a sauce or condiment to go with it.
I chose chicken for the next hot meal and it was Chicken Inasal served with Atchara and Rice. A solo pack Dried Mango was also included.
Customer service
Proud of their "Buong Pusong Alaga" (wholehearted service), the Philippine Airlines flight crew definitely delivers commendable customer service, worthy of the "Heart of the Filipino". The crew was polite and friendly, and there was enough crew to facilitate the timely handing out of meals and other tasks such as distributing hot towels, getting trash, etc.
Inflight entertainment/WiFi
Do Philippine Airlines have inflight entertainment?
Unlike my Doha to Manila flight, the A330 seats have their own 10.1 inches myPAL eSuite personal TV.
The pre-departure safety video is also shown here.
I have already watched most of the movies, however, so I had no choice but to rewatch some of them just because I couldn't fall asleep.
Since I was seated at the exit seats, my IFE monitor folds down in between the seats, unlike the regular seats, in which their monitor can be found at the back of the seat in front of them.
You can watch movies and TV series, listen to music, read magazines, and view airport maps, and there's even a dedicated section for kids. You can also track the flight and see the flight information.
Philippine Airlines Doha to Manila flight
Departing from Hamad International Airport, the Doha to Manila flight of Philippine Airlines used the older model of A33o with a 3-3-3 configuration. I got lucky though that I was assigned a window seat.
Aside from the complimentary use of a pillow and blanket, we were also given a personal hygiene kit with a toothbrush, toothpaste, and a sleeping mask. A hot towel was also given during the flight.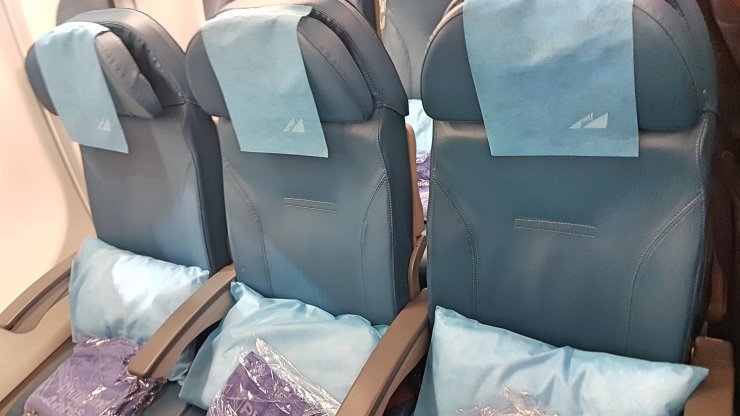 Inflight meals
I chose the fish fillet for the first meal onboard. It was good but I didn't like the somewhat pickled side vegetables. For breakfast, it was chicken-filled bread which was quite bad among the inflight snacks I've had in my life. The bread was very dry so I didn't get to finish it even though I was very hungry.
They also gave us Filipino snacks like nuts, crackers, and a cupcake.
MyPAL Player
Before boarding, ground personnel informed us to download MyPal Player on our smartphones.
Thanks to this app, it will feel like you have inflight entertainment onboard. They also have 30 MB of Complimentary Wi-Fi that you can use during the flight. While the data allowance may not seem much but it allowed me to read my messages and reply to them when I got tired of watching movies. You can also pause the complimentary Wi-Fi while you are not using it.
Philippine Airlines Doha to Manila Travel Requirements
eTravel registration (Philippine One-Stop Electronic Travel Declaration System): All passengers are required to register on e-travel within 72 hours prior to their departure.
Valid passport
Plane ticket
Philippine Airlines Manila to Doha Travel Requirements
Printed Copy of Overseas Employment Certificate for OFWs
eTravel registration
Valid passport
Valid QID (or valid visa)
Plane ticket
Tips for flying with Philippine Airlines
If you're a frequent flyer of Philippine Airlines, make sure that you enroll in their Mabuhay Miles Frequent Flyer Program through mabuhaymiles.com.
Is Philippine Airlines safe to fly? Yes! It's not one of the safest in the world according to some lists but it has an excellent track record and no casualties in the last 10 years. So far, I have not experienced any life-threatening incident onboard a PAL flight, domestic or international.
Philippine Airlines baggage allowance: Doha to Manila and Manila to Doha
How many kilos of baggage is allowed? During my Doha to Manila and Manila to Doha flights, we were allowed 2 pieces of 23 kg each bag. Check here to know more about Baggage Allowance and Fees.
Overall impression
The Doha to Manila and Manila to Doha flights of Philippine Airlines were my first direct long-haul flights in my flying experience. True to their motto, the cabin crew did their best to deliver wholehearted service.
Disclosure: This is NOT a sponsored review. All opinions are entirely my own and based on my flying experience with PAL.
---
Have you flown with Philippine Airlines? How was your experience?