Metro Manila, Philippines – Looking for Instagrammable places in BGC, Taguig City? Art abounds the walls of buildings in Bonifacio Global City (BGC)!
It may come as a larger-than-life mural, graffiti, or small detail in one corner, waiting to be discovered. This cultural movement popularly known as Street Art has found its way into the metropolitan city of Taguig just like the famous street art cities in Southeast Asia which also includes Penang.
Thanks to ArtBGC Festival organized by the Bonifacio Arts Foundation (together with LeBasse Projects and Honeycomb Communities), BGC's murals have become part of its attractions. Since 2015, local and international artists were invited to contribute their installations and graffiti to the cosmopolitan city's walls.
Local residents and visitors alike will have a blast hunting for street art since they are all Instagram-worthy.
To guide your art walk, check out this map of different wall art in BGC from Art BGC Festival.
You can also check out ArtBGC's DIY tour maps here if you want to explore on your own:
One of the things I love about BGC is that it's a walkable city. With the surfacing of street art, I hope it also inspires people to walk more and explore this outdoor gallery.
SEE ALSO: Street Art in George Town, Penang, Malaysia
Here are my favorite street art in BGC:
If you are looking for where to shoot in BGC, I have included the BGC wall art locations.
1 Between the Lines by CYRCLE
Location: 7th avenue corner Federacion Drive
Occupying the whole building wall, this astronaut is the work of the duo @cyrcle. This is also one of my favorites especially because of those luminous green lines.
2. We Are What We Pretend To Be by Nate Frizell
Location: Bonifacio High Street, Fully Booked
3. Charlotte by Nate Frizell
Location: Bonifacio High Street, Timezone
4. We Are What We Pretend To Be by Nate Frizell
Location: Bonifacio High Street, ROX building
5. Andres, Katipunan Supremo by Doppel
Location: Bonifacio High Street Central
6. Manpower by Kris Abrigo
Location: Net One Center
7. Calamansi and Sampaguita by Pastel – Francisco Diaz
Location: BGC Corporate Center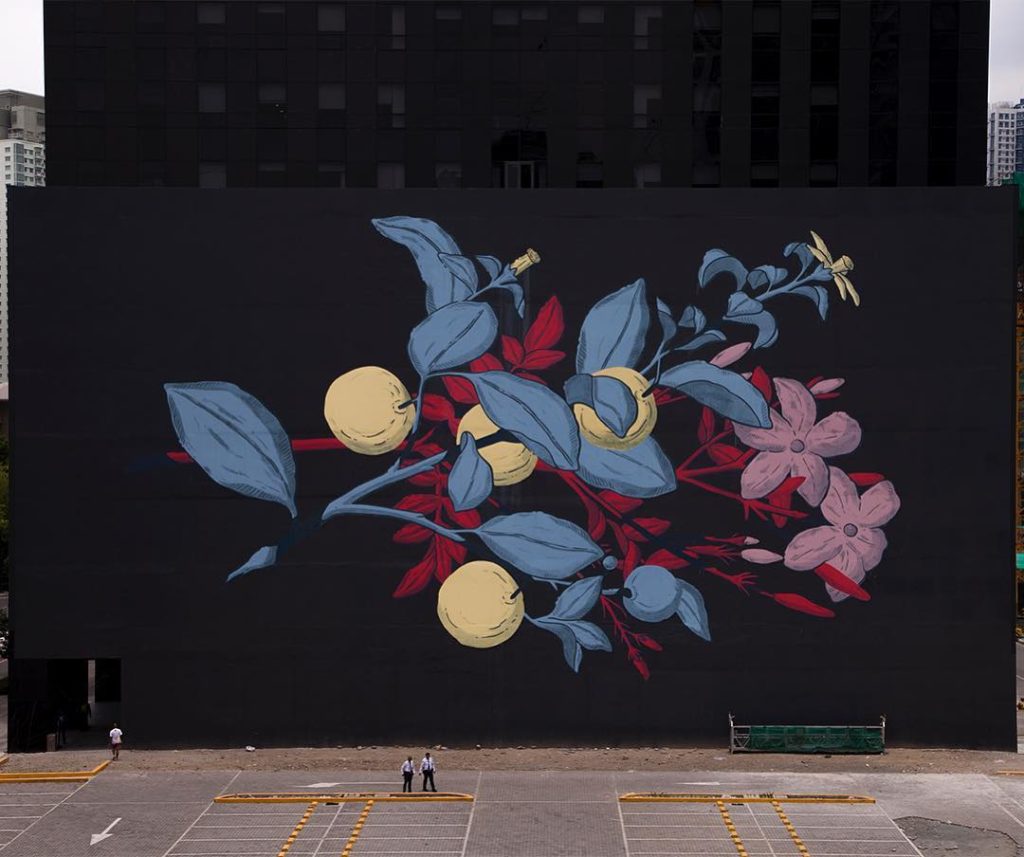 8. Wonderland by Faile
Location: One Global Place, 26th street corner 5th Ave
9. The Heart of God's Country by Andrew Schoultz
Location: W Fifth Building, overlooking 5th Ave and 32nd
10. Monster Magic Owl by Bunnie Reiss
Location: Bonifacio High Street B1 Parking
11. May you find comfort here by K.F.K.
Location: Bonifacio High Street B1 building
12. Magsasaka by Archie Oclos and Aleili Ariola
Location: Burgos Eats on Rizal Avenue
13. Wallflowers by Trip63
Location: Bonifacio High Street B2 building
14. Mother Nature: Four Seasons by Dee Jae Pa'este
Location: Bonifacio High Street Central stairs (from 28th street)
15. Pangako by Anjo Bolarda
Location: Bonifacio High Street Bldg B3 parking (Lane P)
16. Kapit Kamay by Biskeg Pangasinan Art Collective
Location: corner of Uniqlo Building along 30th St.
17. Dating Tagpuan by John Paul Antido
Location: C3 Annex Building, Bonifacio High Street Central, 30th Street corner 7th avenue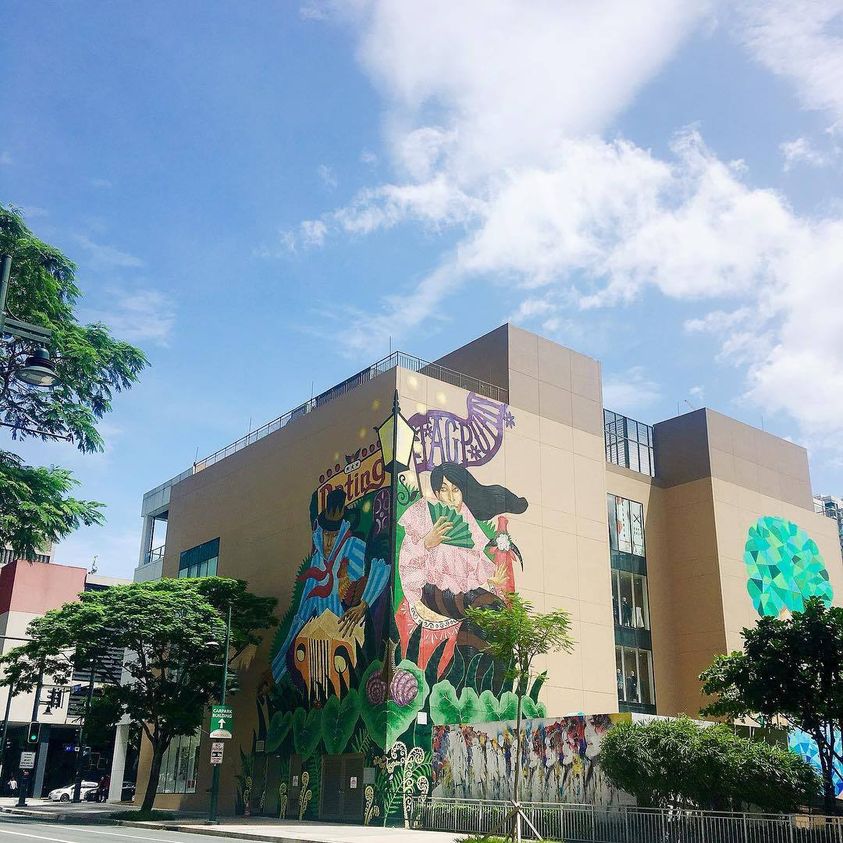 18. Beyond Borders, Peaceful Voyage by Younggyun, Nam, Siyeong, Sunil, Auggie, Bunga, Bows, Haha, Perol, Pesey, Ariff, Cyrus, Zero, Miguel, Nemo
Location: 26th street, corner 5th avenue
19. UP TO THE SKY by CEET Fouad and Egg Fiasco
Location: Central Square Mall, BHS Central
20. "Dalagang Pilipina" by Ang Gerilya
Location: 28th Street, Maybank Corporate Centre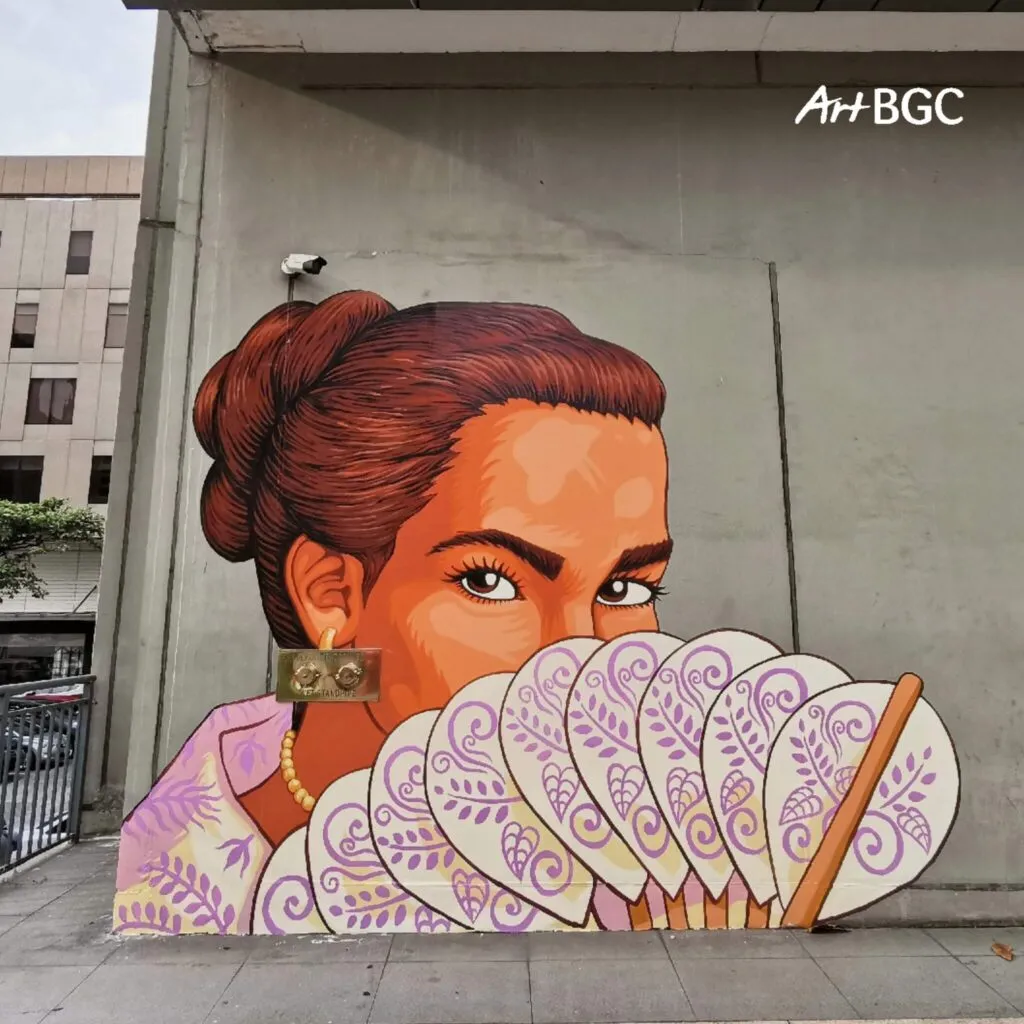 21. Thor: Love and Thunder by Jappy Agoncillo
Location: C1 Building, BHS Central
22. Atin Ang Araw by Zoe Rosal
Location: C1 MRF, BHS Central, 28th Street
Indeed, these works of art in the streets in BGC are not just beautiful to look at and worthy of a photograph. Their underlying meanings are also something worth thinking about.
---
SEE ALSO: Street Art in Melaka, Malaysia
---
Do you like street art? Do you look for it when you travel?
LIKE IT? PIN IT!