If you're looking for authentic Mexican food in Mexico City, Taqueria Orinoco is one of the must-visit spots especially for taco lovers.
With its delicious and simple menu featuring Northern-style tacos as well as the interior's retro vibes, it's no wonder that Taqueria Orinoco has become a popular destination for locals and tourists alike.
Taqueria Orinoco Roma Norte CDMX
Because I stayed in Roma Norte during my first visit to Mexico City, I couldn't pass up trying Taqueria Orinoco which was just walking distance from my apartment.
Is it one of the best tacos in Mexico City? There are lots of great taquerias or taco places in CDMX, but Taqueria Orinoco is surely one of the best in the Roma Norte neighborhood.
The Roma Norte neighborhood of Mexico City is known for its trendy and hip atmosphere. The exact address of the restaurant is Av. Insurgentes Sur 253, Ciudad de México, CDMX, Mexico. It is easily accessible by public transportation, and there are also parking options nearby.
I went shortly after opening and although there was a short line, it moved quickly. You order first and pay at the cashier which was at the door and then sit at a table to wait for your order.
During my visit, I observed that the clientele was a mix of locals and tourists. Serving time is also quite fast and attentive, with the restaurant having enough manpower.
Taqueria Orinoco Mexico City Menu
3 Proteins
Trompo (Pastor, Pork meat)
Res (Beef, "Gaona")
Chicharron (Norteño style meaty pork rinds)
"Sueltos"
1 Taco: (choose from: Corn – Flour – Tostada)
FYI: All tostadas version include a refried bean base
| | |
| --- | --- |
| TROMPO with onion, cilantro, corn chips, pineapple | MXN 28 |
| RES with onion, cilantro, avocado and queso fresco | MXN 41 |
| CHICHARRON with avocado, pickled red onion, beans, corn chips | MXN 37 |
Costra
Basically the same content as the tacos but with grilled cheese (1 piece)
Options: Corn – Flour – Tostada
TROMPO
MXN 55
RES
MXN 55
CHICHARRON
MXN 55
ORINOCO
chicharron with our Orinoco sauce (very spicy)
MXN 75
Especiales
Big tacos with Asadero cheese, crunchy corn chips, onion, cilantro and avocado
| | |
| --- | --- |
| GRINGA (Trompo) | MXN 125 |
| PIRATA (Beef) | MXN 125 |
| CAMPECHANA (Beef & Trompo) | MXN 125 |
| NORTEÑA (Chicharron) | MXN 125 |
No Meat
QUESADILLA
Corn or flour tortilla, crunchy Asadero cheese, corn chips & avocado
MXN 23
TACO DE AGUACATE
Corn or flour tortilla, avocado and corn chips
MXN 23
Extras
PAPAS ORINOCO (10 pcs)
10 "Galean" (Small) potatoes, cooked with our special recipe, smashed and fried, crunchy on the outside, soft on the inside
MXN 43
1/2 DE PAPAS ORINOCO (5 pcs)
MXN 33
FRIJOLES CHARROS
"Charro" beans (soup), crunchy corn chips, cilantro and onion
MXN 39
FRIJOLES CHARROS ESPECIALES
Same as above but adding Trompo or beef and queso fresco
MXN 49
PIEZA DE CHICHARRON COMPLETA (1 piece)
MXN 39
ONION SIDE
MXN 30
AVOCADO SIDE
MXN 37
TORTILLA ORDER
Corn (5) ; Flour (3)
MXN 10
Drinks
| | |
| --- | --- |
| SODA 355 ML | MXN 33 |
| BOTTLED WATER 500 ML | MXN 33 |
| AGUA FRESCA 1 LT (GUAVA AND HIBISCUS) | MXN 45 |
| BEER (355 ML) | MXN 39 |
Sweets
Buñuelo
Fried Sweet Flour Tortilla, "Leche Quemada" from Nuevo Leon, Cracked Walnut and Banana Ice Cream
MXN 69
Oblea Reyna
Cajeta "Oblea" (Mexican Wafer) from Nuevo Leon
MXN 34
Guava Ice Pop "Paleta"
MXN 55
Taqueria Orinoco Menu Highlights: What To Order
If you're looking for some of the best tacos in town, you can't go wrong with Taqueria Orinoco. Here are some of the menu highlights you won't want to miss:
Tacos al Pastor
The Tacos al Pastor at Taqueria Orinoco is a must-try. Made with marinated pork cooked on a spit (also known as a Trompo), these tacos are packed with flavor.
The meat is juicy and tender, with a slightly sweet and spicy flavor that comes from the marinade. Topped with onions, cilantro, and pineapple, these tacos are a perfect balance of flavors and textures.
Tacos de Chicharrón
Another standout item on the menu is the Tacos de Chicharrón. These tacos are made with crispy fried pork skin, also known as chicharrón. The pork skin is cooked until it's crispy and then chopped into small pieces.
The tacos are then topped with onions, cilantro, and a variety of salsas. The combination of the crispy pork skin and the fresh toppings makes for a delicious and satisfying taco.
Whether you're in the mood for meaty Tacos al Pastor or crispy Tacos de Chicharrón, Taqueria Orinoco has got you covered.
Taqueria Orinoco Ambiance
As you enter the restaurant, you will immediately notice that they definitely stick to their brand colors of red and white. The walls are adorned with white tiles and adorned with different words like Gringa, Mexico Potencia Mundial, "Orinoco", Pirata, and more. The tables and chairs are also painted in red, completing that retro diner vibe.
One of the highlights of Taqueria Orinoco is its outdoor seating area, which is perfect for enjoying your tacos al fresco. An ideal spot to eat your tacos with family and friends while enjoying the good weather or people-watching.
Overall, Taqueria Orinoco offers a relaxed and casual ambiance that perfectly complements its delicious food. Whether you're looking for a quick bite or a leisurely meal, this restaurant is a must-visit for people visiting Mexico City.
Service and Ordering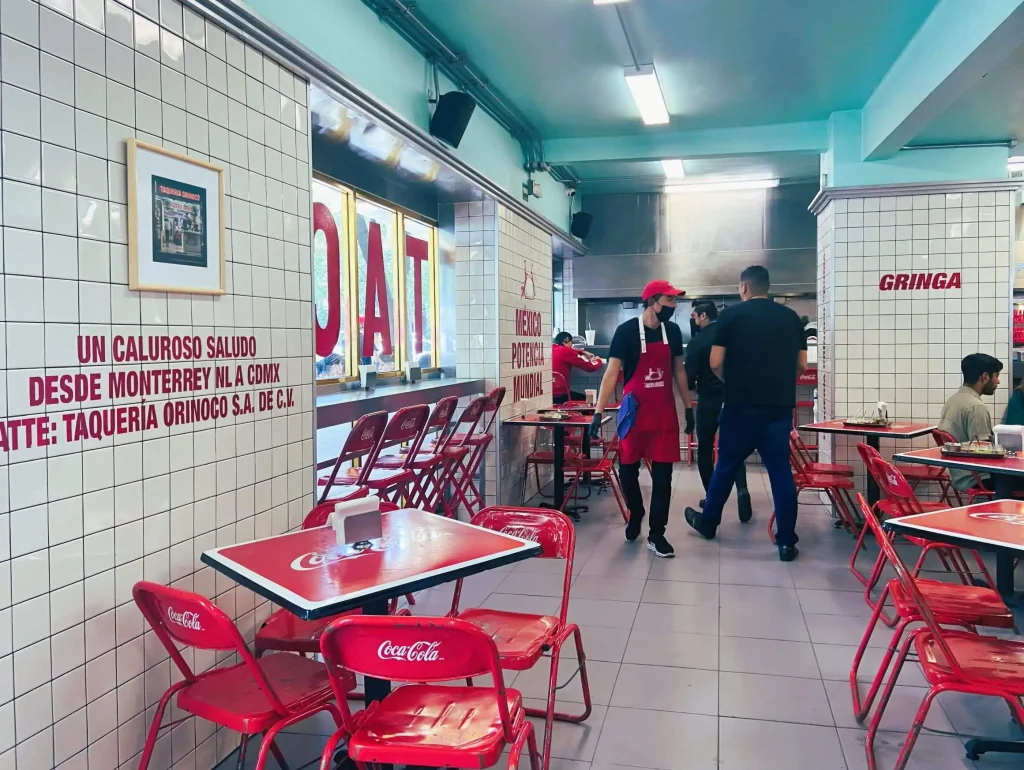 When you visit Taqueria Orinoco, you can expect friendly and efficient service from the staff even if you speak very little Spanish. Whether you're dining in or taking out, you can expect prompt service and delicious food.
If you're in a hurry, you'll appreciate the fast turnaround time at Taqueria Orinoco. The restaurant is known for its quick service, so you won't have to wait long for your food. You can also order online for delivery or takeout if you prefer to enjoy your tacos at home.
When it comes to payment, Taqueria Orinoco accepts cash and credit cards. This makes it convenient for customers who prefer to pay with plastic. You can also order through third-party delivery apps like Uber Eats and Rappi if you prefer to pay with a digital wallet.
History of Taqueria Orinoco
This popular taqueria has been serving up some of the best tacos in Mexico City for years. But how did it all start?
Taqueria Orinoco was founded in Monterrey, Mexico in the 1980s. The original location is still in operation today, serving up the same delicious tacos that made it famous. The taqueria has since expanded to several locations throughout Mexico City, including in the trendy Roma neighborhood.
The taqueria's name comes from the Orinoco River, which flows through Venezuela and Colombia. The founder of Taqueria Orinoco was inspired by the river's name and decided to use it for his taqueria.
The taqueria's menu is simple but delicious. It features a variety of tacos, including al pastor pork, beef, and chicharron (fried pork skin). You can order each flavor on a maize (corn) or harina (flour) tortilla, or even opt for the crispy tostada.
Taqueria Orinoco Locations
ROMA "NORTE"
"CENTRITO" VALLE
SAN JERÓNIMO
SUCURSAL TEC
POLANCO
CONDESA
ZONA ROSA
Check the addresses and contact details here: https://taqueriaorinoco.com/