Indeed, arts and culture were everywhere you look in the municipality of Angono in Rizal. Our weekend jaunt here took us to museums, art galleries, street art, and other works of art that are a testament to its being the Art Capital of the Philippines.
In this guide, let me tell you what to see in Angono as well as where you can stay to enjoy a weekend in Rizal!




What to see in Angono:
1. Balaw Balaw Art Gallery
Better known for serving exotic dishes, Balaw Balaw also houses the masterpieces of Vocalan Family. Opened in October 1982 by Mr. Perdigon and Mrs. Luzvimin Vocalan, Balaw Balaw aimed to showcase Filipino culture and tradition in Angono. And since Mr. Perdigon came from a family of cooks, what better way to combine his two loves than by putting an art gallery and restaurant together.
The first floor houses the restaurant as well as an indoor garden. You'll also find a few works of art near the spiral staircase. But most of the artworks are upstairs and you'll be amazed by the hodgepodge of art showcased there. From wooden sculptures, paintings, and everything in between. There are around hundreds of art you can find there!
Address: 16 Doña Justa Subdivision, Angono, Rizal
Operating Hours: 10:00 AM – 10:00 PM
2. Blanco Family Museum
One of the first things you'll see when you get to the Blanco Family Art Museum is an upside down orange carp and giant carabao paper maches.
Headed by the patriarch, Jose "Pitok" Blanco, the whole family with 7 children and their mother Loreto "Loring" all knows how to paint. And they started very early too, with the youngest even starting at the age of eleven months!
The museum was constructed in 1980 and chronicles the family's evolution as artists. The gallery starts with the works of the youngest up to their father. Their subject is not just Filipino culture and traditions but also scenes from abroad from where they had their exhibitions. They were also the first family who had their exhibit in the National Museum in 1978.
The children were taught at an early age by their father and were given free rein in what they want to paint resulting to each child having his or her own specialty. According to Mr. Michael (one of the seven siblings), who was very gracious to tour us around, their father trained them to paint not just when they're in the mood. They had an allotted time every day for painting that's why it became a habit and their craft was honed.
Address: 312 Ibanez St. Brgy. San Vicente, Angono, Rizal
Operating hours: 9:00 AM – 12:00 PM; 1:00 PM – 6:00 PM Tuesday to Sunday
READ: Where to Eat in Angono




3. Carlos Botong Francisco Second Gallery
One of the people who put Angono on the map is none other than the National Artist for Visual Arts, Carlos "Botong" Francisco. He was not just a painter, but also a poet, scriptwriter, and a costume designer. His most famous murals include Blood Compact, First Mass at Limasawa, and The Martyrdom of Rizal.
The residence along Poblacion Itaas, filled with memorabilia of Botong, is run and maintained by his grandson, Carlos "Totong" Francisco. Totong is also an artist himself, and you can find his Abstract Expressionism masterpieces as well as that of other upcoming artists in the gallery.
Address: Doña Aurora, Poblacion Itaas, Angono, Rizal
4. Street Gallery
The whole street of Dona Aurora in Poblacion Itaas is like a gallery. Why? The walls of the street are filled with reliefs depicting the works of Carlos "Botong" Francisco and another National Artist, the composer Lucio San Pedro.
Walking towards the church, you will also find the Barangay Hall where you can find two mythological creatures associated with Angono – Angnuno and a mermaid.
Don't miss saying a prayer inside St. Clement Parish Church and see for yourself the paintings on its walls.
Address: Doña Aurora, Poblacion Itaas, Angono, Rizal
5. Angono Lakeside Park
Known locally as Wawa, the Angono Lakeside Park has become what it is now thanks to the local government. If you're fond of mingling with the locals, then this is the "it" place to be. Angonians flock here especially near sunset, to view the magic hour amidst Laguna Lake and the cityscape nearby. There is also a myriad of things to do here such as zip line, boat ride, biking, and eating a myriad of street food.
6. Angono – Binangonan Petroglyphs
True to its moniker, Angono is also where you'll find the oldest work of art in the Philippines. And discovered by a National Artist, no less! Said to be dated around 3000 BC, the shallow rock shelter contains 127 figures carved into the volcanic tuff. These figures depict frog-like and lizard-like drawings among others. Botong accidentally discovered them in 1965 while on a Boy Scout field trip.
Archaeological excavations also yielded artifacts such as earthenware, stone tools and prehistoric remains dating back to the late Neolithic Age.
The Petroglyphs is a National Cultural Treasure by virtue of Presidential Decree No. 260. It is currently managed by the National Museum of the Philippines. It is also included in the World Inventory of Rock Art under the auspices of UNESCO, ICOM, ICOMOS, ICCROM, under the Standard Rock Art Files (RAS).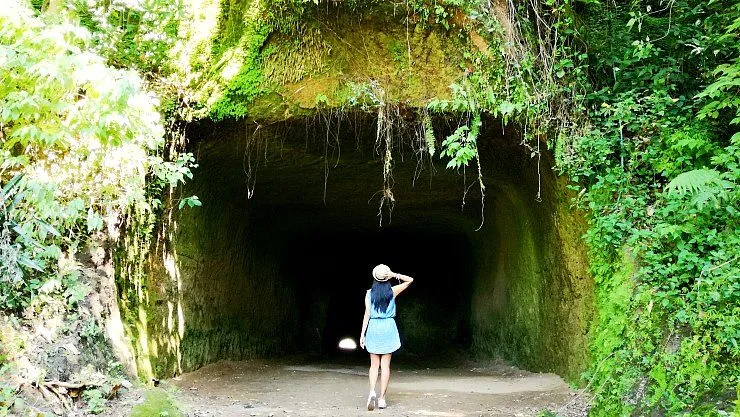 Operating Hours: Mondays-Fridays / 9:00 am – 4:00 pm;
Saturdays, Sundays and holidays by appointment




7. Higantes Festival
Definitely one of the things you shouldn't miss in Angono is their annual fiesta celebrated in honor of St. Clement, patron saint of fishermen. During November 22 to 23, the streets come alive with a parade of paper mache giants representing each barangay in the municipality and well-known characters. Nowadays, flexi glass has replaced most of the paper mache but the spirit and artistry of the festival remain the same. What makes these colorful giants even more fascinating is that it is manned inside by the townsfolk, sometimes even children participate!
The parade concludes with a fluvial procession carrying the image of St. Clement.
What better way to know Angono than by joining and experiencing Higantes Festival!
Check the full schedule of Higantes Festival here.
For more info and updates, don't forget to follow Angono Tourism on Facebook!




What else to see in Angono:
Nemiranda Arthouse and Gallery
Yab Design
Tiamson Art Gallery
Read more: Museums and Galleries in Angono
Where to stay in Angono:
We had an overnight stay in Villa Jhoana Resort, which promises the experience of living in your own mansion. The hotel has free wifi, daily housekeeping, and a spacious pool with two slides. We slept in the Presidential Suite which has its own Jacuzzi and a spacious bathroom.

Address: 1070 Ibanez street, Carebi Subd. Brgy. San Isidro, Angono, Rizal
www.villajhoanaresort-rizal.com
Where to Eat in Angono:
Angono is best explored on a full stomach. Sample the Art Capital's food scene, from street food to exotic food. Read more about it here – Angono Foodscapades
How to get to Angono:
Option A: From LRT Santolan, take a jeep to Angono. Drop off point is Iglesia ni Cristo or SM Angono.
Option B: From Edsa Central Terminal, take a jeep going to Angono
How to get to Angono – Binangonan Petroglyphs:
Option A: Take a van from Iglesia ni Cristo to the Petroglyphs (Fare: Php 20)
Option B: From Antipolo, ride a SAFTTODA tricycle near E-Homes (near Shopwise Antipolo)
---
Disclosure: Special thanks to Angono Tourism and Celineism for inviting me to the first FoodArtAngono Tour. As always, opinions and comments are still my own. 
---
Are you fond of arts and culture? Do you like knowing about a place's culture when visiting?