Angono, Rizal wasn't just a feast for the eyes, but a feast too, for our starving stomachs. In between appreciating the arts and culture that Angono has to offer, we indulged ourselves in food made by homegrown favorites. So if you want to know where to eat in Angono, check out what are the town's popular food and dining spots.




READ: What you should NOT miss to see in Angono
Where to eat in Angono?
Kumanoy
Our first taste of Angono came in the form of a sticky rice cake known as Kumanoy. Made with ground sticky rice, sugar, and coconut cream, this creamy "kakanin" kickstarted our tummies with a sugar rush. The caramelized sugar complemented the sticky and milky base and proved to be the selling point why I liked it instantly. It is best eaten while still warm and would also be the perfect pair for a hot cup of brewed coffee.
We had a chance to sample Tindahan Ni Inday's kumanoy, the recipe of which came from her late grandmother. We also got to sample her Pancit Malabon which is sold by the "bilao". I had a few servings of this because the al dente thick rice noodles, tasty orange-colored thick sauce and crispy fish flakes were the perfect combination for my still hungry stomach.
Prices: Php 350 (Big Pan); Php 50 (Small Pan)
Contact: Jhoanna Miano 0917 680 2779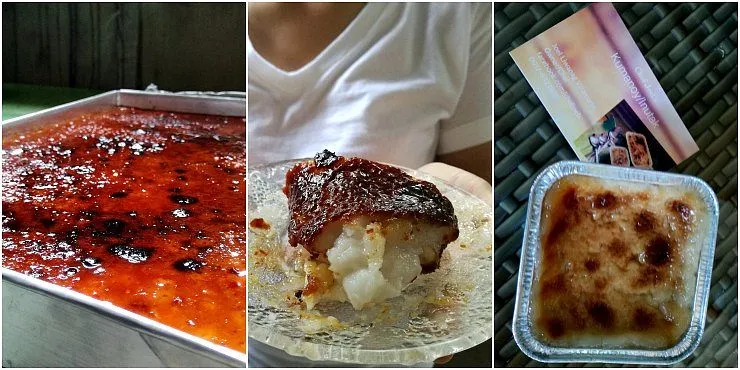 For those who want lesser sweetness and a twist to the classic, Chef Joel's Inutak would be perfect for you. Thai glutinous rice flour was used instead of the usual ground rice. It also comes in a variant with a bed of Ube Halaya.
Price: Big Pan (Php 180); Small Pan (Php 95)
Contact: 0917 632 3878
Facebook: Chef Joel's 




2. Balaw-Balaw Restaurant and Art Gallery
Lunch stop for our first day of FoodArtAngono was at Balaw Balaw Specialty Restaurant and Art Gallery. The restaurant had a native and artsy feel to it, and all that wood around the interiors giving off an antique vibe to the whole place.
Started by Perdigon Vocalan in October 1982 with his wife Luzvimin, Balaw Balaw served to showcase not just Mr. Vocalan's masterpieces but also to serve as an outlet for his cooking and to "put food on their tables".
"Why is it called Balaw-Balaw?", we asked Mrs. Luzvimin while we were resting at the art gallery. According to her, Balaw-Balaw is made of fermented tiny shrimps and is usually used as a condiment or paired with rice. They chose it because it's something that you can always find served in the tables of Angonians for meals.
What is Balaw-Balaw?

It is a delectable appetizer and sauce the Tagalogs serve together with Sinigang.
It is made from small shrimps mixed with rice gruel and "angkak", a herb that gives reddish coloring. The mixture is preserved and fermented in earthen jar for 3 days.
After this, Balaw Balaw is ready to eat of sautéed with young bamboo shoots.

– Source: Balaw Balaw Website
Mrs. Luzvimin also told us how Balaw-Balaw became famous for serving exotic and native dishes. This has resulted in famous personalities visiting and eating at the restaurant. The likes of which included Anthony Bourdain, Andrew Zimmern, presidents, and diplomats among others. True enough, one of the things that immediately caught our attention upon entering the dining area was the menu board promising exotic dishes.
Our lunch menu consisted of creamy Soup no. 5, Cream Dory wrapped in alagaw leaves, Baked Mussels with cheese and balaw-balaw, Sizzling Tapang Kabayo, family sized Minaluto, crispy alamang, and turon ala mode for dessert.
Among these dishes, the Cream Dory wrapped in Alagaw Leaves served with spicy mango sauce and sweet potato wedges were my favorite.
Address: 16 Doña Justa Subd. Ph. I Angono, Rizal
Operating Hours: 10 AM – 10 PM
Facebook: Balaw – Balaw Restaurant and Art Gallery




3. Kim is Hungry Cakes and Cafe
Indulge your sweet tooth in the quaint and charming Kim is Hungry Cakes and Cafe. What used to be a home and online baking business of Kim Gonzales is now a full-blown pastry and cafe. Pastel colors and girly decors welcomed us upon entering the cafe as well as the display of assorted cakes and cupcakes.
Seated in their extended dining area felt a little bit like seating in a little girl's playroom, ready for afternoon tea and sweets. We had the chance to try almost everything – from their cupcakes, cakes, pasta, and drinks. These were served in plates and cups that fit the pastel and girly theme of the restaurant.

For the pasta, the Lasagna Roll-ups won over the Carbonara. Although there was nothing wrong with the carbonara, the lasagna was almost perfect with its sauce. It had the right amount of acidity, sweetness, and saltiness, plus a generous serving of cheese on top. The Quesadilla was a yummy snack too, although I'll always be biased over my own quesadilla. Hehe.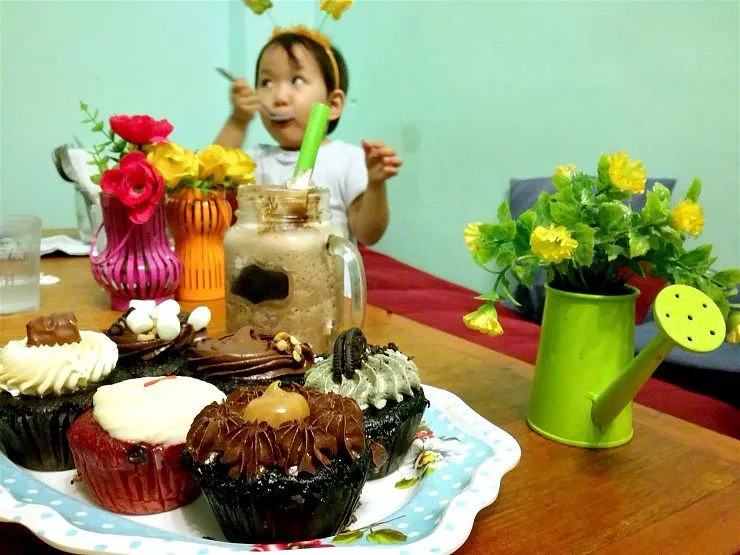 As for the cupcakes, we tried a lot of them and what stood out for me was the Banana Nutella. As for the cakes, my top favorites are the Ferrero Nutella Cheesecake and Matcha Oreo Cheesecake, although the Matcha Oreo could use a tiny bit more of matcha.
Kim is Hungry surely did not disappoint. And based on the quality of the food they served us, they lived up to their mission of not skimping on ingredients.
Address: 2nd floor Paulina Bldg. M. Diaz corner Ibanez st. Brgy. Sto. Nino, Angono Rizal (near University of Rizal system, Express Pay, and GRT Diagnostic clinic)
Operating Hours: Monday 2:00 PM – 8:00 PM; Tuesday to Sunday 11:00 AM – 9:00 PM
Facebook: Kim is Hungry Cakes and Cafe




4. Wings on the Go
Like Kim is Hungry, Wings on the Go used to be a home business. But because of their cult-like following, they have decided to open their own restaurant, that doubles as a lifestyle shop too. The menu is pretty straightforward, with burgers and wings headlining the rest of the food offered by the owners, Faye and Leo David.
Meat lovers would surely have a field day with their burgers. All of them features grilled, pure beef quarter pounder patties! The sides and salads are also served in hefty portions, so you really get the bang out of your buck. Meanwhile, their famous Buffalo Wings are freshly-made and are so juicy and tasty, you'll forget your name for a second. Haha. I'm not kidding. The wings were gone in a heartbeat.
It is so hard to pick a favorite out of all the things we ate because the food is consistently good. And for the affordable price, they didn't scrimp on ingredients either. It's a restaurant you want to come back to again and again.
Address: #213 E. Rodriguez Street Brgy. Sto. Nino Angono, Rizal
Operating Hours: Tuesday to Sunday 3:00 PM – 9:00 PM
Facebook: Wings on the Go
5. Lava Mocha Cafe
What used to be a school supplies store is now a restaurant famous for their Higante Frappe and Do-It-Yourself Frappe. Targeted towards the students and millennials, this quirky restaurant and cafe serve a variety of affordable dishes including native Angono dishes like fried itik.
The seating on the second floor was homier than the first level because of the couches and low seating. They also have their own photo booth corner, guaranteed to entertain you while you wait for your orders.
The Higante Frappe was gigantic indeed and Instagram-worthy too. Definitely perfect for barkadas!  The Do-it-Yourself frappe was a cool concept, allowing you to choose your own toppings and flavor as well as you get the chance to style it the way you want it.
We also got to taste their nachos and buffalo wings. And for internet lovers, don't worry, they have Free Wifi, just ask nicely for the password. 😉
Address: 97 Dona Aurora Street, Brgy. San Roque, Angono, Rizal (near Angono High School)
Operating Hours: 11:00 AM – 11:00 PM
Facebook: Lava Mocha Cafe




6. Balwarte
One of Angono's newest restaurants is the family-owned Balwarte. Their interiors may be simple and unassuming, but don't let that deter you from trying their tasty dishes.
Street food lovers would enjoy their grilled Isaw (intestines) and balun-balunan (chicken gizzard). Personally, I loved their Sizzling Pork Steak and I ate so much of it! Notable mentions are also their nachos that came in a big serving and their witty Buffalo Wings. Why witty? The spice level is named after a hugot line: Nagmahal, Nasaktan, Nagpatiwakal. (Read: Hugot = Emo)
Since I have a low threshold for spicy food, of course, I chose the mildest: Nagmahal. It was the perfect combination of sweet and a hint of spice.
Address: 201 E. Rodriguez road Sto. Nino
Operating Hours: Closed Tuesdays; Monday 2:00 PM – 5:00 PM; Wednesday to Thursday 2:00 PM – 10:00 PM; Friday to Saturday 2:00 PM – 11:00 PM; Sunday 2:00 PM – 10:00 PM
Facebook: Balwarte
7. Art Capital Cafe
Located beside a gasoline station (Caltex), this small cafe is more than a coffee shop. Living up to its name, Art Capital Cafe also displays a few paintings and art pieces on its walls. The place is cozy and would be a good option for hanging out with your friends or just chilling out by yourself.
Their frappuccinos are served in the now ubiquitous mason jars and are surprisingly affordable. Of all the flavors we tried, my favorite would be the Butterbeer. And no, that's just not because I'm a Potterhead although it could be a tad too sweet. Other flavors I liked are Mocha Mint and Matcha Green Tea.  All frappes are priced at Php 100 only.
For their food, we enjoyed their colorful and cheesy nachos. And when I say cheesy, I meant it was topped with a mound of finely grated cheddar cheese!
We also got to try their Cheeseburger shots, Potato Wedges, and Buffalo Wings. The wings come in Parmesan or Spicy variant and I really liked it too because it was the "dry" variety yet the meat is still juicy and tasty.
Address: M.L. Quezon Avenue, Brgy. San Isidro, Angono, Rizal
Operating Hours: Monday 4:00 PM – 10:00 PM; Tuesday to Thursday 12:00 PM – 10:00 PM; Friday to Sunday 12 PM – 12 AM
Facebook: Art Capital Cafe
---
Disclosure: Special thanks to Angono Tourism and Celineism for inviting me to be a part of the first FoodArtAngono tour. Opinions and comments are all my own.
---
Have you been to a food crawl? Do you like traveling for food?