Sagada is surely one of the most popular destinations in Mountain Province. Even if the bus ride to get here can be dangerous, people still flock to experience what the municipality offers. So where and what to eat in Sagada? Well, you have lots of establishments to choose from depending on your budget and food preferences. Sagada prices are usually higher than Metro Manila but of course, you can't compare since commodities and ingredients are easily accessible and abundant in the city. Restaurants also tend to close early so prepare accordingly.




What to eat in Sagada
Sagada Lemon Pie House
Famous for its Lemon Pie, hence the name, this two-story restaurant off the main street is one of Sagada's most popular restaurants. You'll be greeted with wooden interiors and locally made artwork and pieces hanging on the wall.
My favorite part of the restaurant is the low wooden tables where you'll be sitting on the floor pillows. For those who prefer traditional chairs, there is more seating at the back.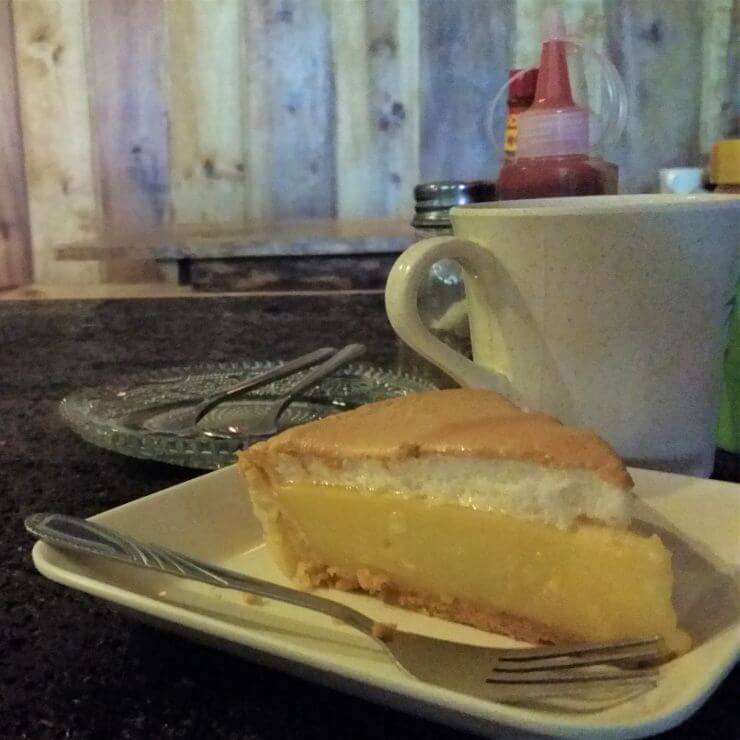 We, of course, ordered a slice of their Lemon Pie and I found it to be a bit sweet for me. I don't know if they changed their recipe throughout the years but the first time I tried their pie in 2013, I remember it as more tart and less sweet. Or maybe I wasn't remembering correctly. I do remember that I liked the crust and the meringue top though. Best to pair it with the local mountain tea.
Prices (as of 2018): PHP35 per slice of Lemon Pie; PHP250 per pan; PHP 120 – 160 for rice meals
Yoghurt House
All of my friends who have been to Sagada has told me not to miss eating at Yoghurt House. And after dining there two times now, I can definitely understand the fuss.
Like The Lemon House, Yoghurt House is also a two-story rustic restaurant along the main street. There are more seating upstairs so feel free to head there after ordering at the ground floor counter. But the best seat has got to be on the balcony. Perfect for people-watching, if that's your thing.
On the walls, you can see framed photos of Sagada's days gone by. But these photos are for your eyes only. Taking photos of them are not allowed.
Yogurt is one of those foods that I don't really like eating but I know that I have to. Fortunately, the yogurt in Yogurt House is different from the ones we get commercially. Homemade yogurt topped with a homemade strawberry preserve, banana, and granola. What more you can ask for, right?
The restaurant has a full menu and offers not just yogurts. From starters to desserts, there are a lot of items to choose from. We had our lunch here a couple of times and we liked the pasta with roasted eggplant. If you don't want to try the yogurt, you can try their lassis instead.
As for the service, be prepared for long waiting time and not-so-friendly service staff.




Strawberry Cafe
Off the main street is where Strawberry Cafe is hidden. They have their own homegrown strawberries on their backyard so you know that the strawberries you're getting in your yoghurt are fresh.
They are known for their breakfast although they are serving lunch and menu items as well. For a less crowded option, come to Strawberry Cafe to try their homemade yoghurt.
Inside and outdoor seating is available although in peak hours be prepared to wait because the cafe only has limited staff.
Prices (as of 2018):  PHP 130 – 150 for rice meals; PHP 30 for hot drinks; PHP80 for fruit shakes
Sagada Brew
From its name, you would think that Sagada Brew will be like your typical cafe serving only coffee and pastries. However, it is also a restaurant serving meals for breakfast to dinner.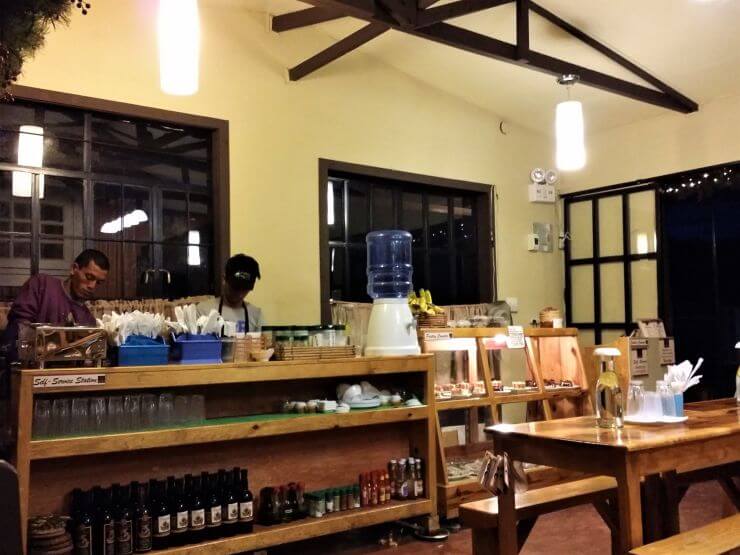 Located near Sumaguing Cave, Sagada Brew is one of the newer restaurants in the area. The dining area is not big so big groups will have a hard time finding seats, especially during peak hours. Like other restaurants, be prepared to wait for your meal to be served.
Do try out their homebaked cakes. There's also a lot of hot and cold beverage options available.
Salt & Pepper Diner
Tucked in the 2nd floor of Salt & Pepper Inn, their in-house diner offers not just local fare like Inutom and Etag but also menu items catering to foreign guests. Etag is Cordillera-style dried and cured pork while Inutom is pan-roasted chicken. Definitely swing by here on non-peak hours if you are not willing to wait for your meal.
Try Dinakiw and Sinarabasab as well. Like Yoghurt House, they also have balcony seating which is good if you want to people watch.
Prices (as of 2018): PHP 100 – 180 for breakfast meals; PHP 195 – 225 for specialties




Masferre Country Inn and Restaurant
Brownouts (power interruption) are common in Sagada. And we sure did experience it on our last day when we just arrived at Masferre to have our late breakfast. They were still open and still served us and it turned out to be a candlelit dining experience instead.
This restaurant is near the Tourist Information office. Hanging on the walls are photos of Eduardo Masferre, regarded as the father of Philippine Photography, a Filipino-Catalan photographer who documented Cordillera through his photography.
Pinkpikan Haus
Pinikpikan, a specialty dish in the Cordilleras, is a chicken dish like no other. What makes this dish flavorful is the coagulated blood of the chicken as well as burned feathers and Etag. The process of coagulating the chicken's blood can be a turn-off, especially for those who are conscious of how their food is made. Although the restaurant offers other dishes, their special dish is, of course, the Pinikpikan.
They are located near Lemon Pie House and the interiors are decorated with objects important in Cordillera heritage. We were the only ones who went for dinner so we got good service even if we waited for our meals to arrive. The Pork Sisig is good too!
Gaia Cafe
Made popular by the movie, "That Thing Called Tadhana", Gaia Cafe is one of the establishments in Sagada offering vegetarian dishes. You will pass it by on the way to Sumaguing Cave and the restaurant offers a relaxing view of the terraces and surrounding mountains.
They also have a cute toilet/restroom! Just make sure to bring coins.
Log Cabin
Reservations are needed in this rustic restaurant serving European and Filipino dishes. Their signature weekend dinner buffets are a must-try.




Sagada Public Market
The market, located beside tourism office, is where you'll find fresh produce as well as local handicrafts in case you want to buy for your own consumption or as souvenirs (pasalubong) for your friends and family.
I bought coffee as well as different kinds of colored rice in the market. I also wanted to buy Sagada Oranges but it was not in season when we went there.
If you happen to be there in Sagada on a Saturday, don't miss the chance of visiting their Weekend Market.
Inside the market, there are also cheap eateries if you're on a budget.
How to get to Sagada

Other destinations in the Philippines you should add on your travel list:
---
Have you been to Sagada? Where is your favorite restaurant there?