Being the first and last Portuguese colony in China guaranteed that the cuisine you can now find in the Special Administrative Region of Macao will be reflective of its roots. The end result, Macanese food, is the culinary child of southeastern Chinese and Portuguese cuisines along with Asian influences.
If you're spending a day or two in the Vegas of the East, gambling and UNESCO Heritage sites are not the only things Macao can offer. Macanese cuisine is also worth the experience and a good way to get to know Macau's history and culture. Here's a list of where and what to eat in Macau as recommended by travel bloggers:




Where to eat in Macau and must try dishes
1. Ristorante Litoral – Macanese food
One of the things I was keen to try during our full-on day trip to Macau was Macanese food, a fusion cuisine born of the island's history as a Portuguese colony. This rich and delicious cuisine combines not only Portuguese and Chinese ingredients, techniques and flavours but also those from other countries which Portugal colonized including India, Africa, South America, and Malaysia.
Our local expert recommended a visit to Ristorante Litoral, a restaurant serving family recipes in the Macanese tradition.
Our lunch included fresh-from-the-fryer lamb samosas followed by "Galhina Africana" (barbequed chicken in a rich coconut and peanut sauce), and "Minchi con Arroz e ovo estrelado", a delicately spiced minced beef and potatoes dish topped with a fried egg, and served with rice – this last one considered to the national dish of Macau.
Recommended by: Kavita of Kavey Eats [Follow on Facebook]
RISTORANTE LITORAL
Address: Rua do Almirante Sérgio, 261-A, G/F, Barra, Macau
Operating hours: 12:00 – 22:00H
2. Antonio – Macanese food
Macanese food is credited with being the first truly fusion food that ever existed with the original Portuguese colonial traders arriving in the little Chinese port with their goods from Europe and their trading across the world and incorporating them into their Portuguese heritage used to cooking with Chinese utensils.
One of my favorite Portuguese restaurants in Macau is Antonio. He is not only a fabulous host, always popping by to say hi or even cooking some dishes tableside himself, but also quite authentic.
The restaurant is located in Taipa and is widely lauded as the best known Portuguese in the city. Here you can find traditional Portuguese dishes like those based on the famous codfish, or other dishes that are very popular in Macau, like the Bacalhau a Braz (egg, potato, onion, and codfish scramble of sorts) or codfish croquettes.
What makes a visit to Antonio extra special is also the decor and the ambiance of the place, spread over three floors and which includes some traditional Portuguese elements like the omnipresent rooster or the blue tiles. If you are there in the summer, take a seat on the outdoor balcony.
Recommended by: Mar of Once in a Lifetime Journey [Follow on Facebook]
ANTONIO
Address: Rua dos Clerigos No. 7, Old Taipa Village, Taipa, Macau
Operating hours: 1130H – 2400H
3. Italian food with a local twist at Bene Restaurant
A trip to Macau is not complete without a feast of flavors, and I know you want to try the incredible fusion between Chinese and Portuguese cuisine, but a holiday abroad must have at least one comfy and delicious Italian meal. In Macau, you can find some of the best Italian dishes at Bene Restaurant at Sheraton Grand Macau Hotel, one of our favorite spots in Macau. We went there for dinner and after a three-course meal, we're fully satisfied and with a big smile on our faces.
The food there is delicious, a mouthwatering variety of Italian classics with an Asian twist, an explosion of flavors served beautifully. Our favorites were the lamb chops and the tuna carpaccio, and totally recommend a Bene cheese and salumi platter as a shared antipasto.
But the highlight of the night was the unique and unexpected dessert, a parmesan cheese ice cream served with a hot strawberry soup and homemade almond cantuccini biscuit. It was to die for!
The restaurant is usually busy, so book your table in advance especially if you want to sit in the beautiful garden. Also keep an eye on their website for seasonal menus, Sunday's brunch and specials for lunch and happy hour.
Recommended by: Natalie of Love and Road [Follow on Facebook]
BENE RESTAURANT
Address: Sheraton Grand Macao Hotel, Cotai Central, Estrada Do Istmo. S/N, Cotai, Macau SAR, MO
Operating hours: 1130H – 1300H; 1800H – 2300H
4. Ali Curry House – Traditional Portuguese Food
Bacalhau Com Natas. Codfish with cream. And potato. And a guaranteed food coma. I can feel my eyes closing and the smile beginning even as I type this many months after our quest to find traditional Portuguese food in Macau.
We actually started with grilled sardines. Pretty good, and a hint of Portugal, especially when they're washed down with bottles of Super Bock and local Macau lager.
We found this restaurant through TripAdvisor – and came here specifically for the Bacalhau Com Natas – which is for me, the ultimate comfort food. We're sat outside Ali Curry House, which is strangely named, seeing as they specialize in Portuguese Food, which isn't traditionally curry. Still, it was worth the walk. We had a seat outside with a red and white checked tablecloth, some good Portuguese style food and excellent service.
Recommended by: Sarah of A Social Nomad [Follow on Facebook]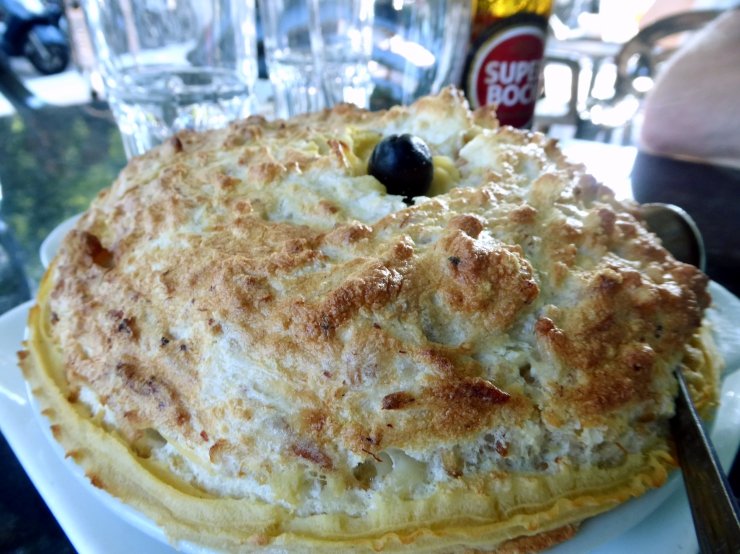 ALI CURRY HOUSE
Address: Avenida da Republica no 4-K, Macau, China
Operating hours: 1230H – 2230H
5. Macau's back streets – Curry Fish Balls
It is sometimes hard to see past the celebrated Portuguese influences in Macanese Cuisine, but at street level, you still find the popular staples of Cantonese cuisine, as well as those from the mainland. And one of the most common street snacks has to be "Curry Fish Balls", which are so popular through Hong Kong and Macau, that they can even be found at the heated counters of the local conveniences (e.g. Circle K).
However, my favourite ever fish ball curry, and probably one of my favourite curry experiences of all time (I love curry) was found in the back street leading down from 'Igreja da Sé Cathedral' in the Historic Center of Macao. Where the small shop called Kam Wai Beef Offal dishes out some of the best bowls you can ever find.
And while the kiosk is famous locally for Beef Offal, there are all sorts of meat options available on the menu, to be smothered in the curry. Including fishballs of course, but some more tourist-pleasing bites like sausages and meatballs. Just point out your meats of choice, and they'll be dished out in a takeaway cup, drowned in curry sauce.
To make the most of the visit I always ask for extra curry, and then I'd drink it straight from the tub when back at the hotel. Expect to pay between 20 Mops, and up to around 50 max. As it will depend on the size of tub and choice of meats.
Recommended by: Allan of Live Less Ordinary [Follow on Facebook]
6. Margaret's Café e Nata – Egg Tarts
Portuguese tarts are really famous in Macau and one of the places I would definitely recommend is Margaret's Café e Nata. Their egg tarts are authentic and not just some normal egg tarts that you can get in all stores. I love how the pastry is super crispy and has a heavy fill of egg in it. The combination of both is just perfect especially if you have it with coffee.
The only throwback to this is that you have to be stuck in a long queue and the service is poor. If you can see through this, I will definitely recommend this store for amazing egg tarts. Well, you know what they say "Good things come to those who wait".
The location is about 6 minutes walk from Senado Square which is a hotspot for tourist for shopping and also the famous Ruins of St's Paul. I would recommend you to visit the café when you are around that area. You can choose to take away or have it there but the place is really limited. If you want to skip the queue, the trick is to go 30 minutes before the store opens. Sometimes, you already have queues there on peak season.
Recommended by: Ee Sing of Ee Sing's Traventures [Follow on Facebook]
MARGARET'S CAFE E NATA
Price : Single egg tart (10MOP), Box of 6 (55MOP) [Prices as of 2018]
Address : 17B, Goldlion Building, Rua do Comandante Mata de Olivia
7. Lord Stow's Bakery – Portuguese Egg Tarts
Have you ever thought of eating a typical European dessert in the middle of the Asian metropolis Macao? Well, due to its history, the Macao Special Administrative Region of the People's Republic of China, an autonomous territory on the western side of the Pearl River estuary in East Asia, still has lots of Portuguese influences that can be felt anywhere, just like while eating dessert.
The typical Portuguese dessert pastel de nata (Portuguese egg tart) can be found in several restaurants and cafés around Macao. This egg tart pastry is topped with cinnamon and super yummy!
The best place to have a taste of it is at Lord Stow's Bakery. Visiting Stow's unassuming bakery today and sampling one of his pastel de nata-inspired tarts – with their flaky pastry crusts, delicious egg custard centres and crispy crème brulee tops – provides a window in the baker's legacy, nearly 10 years after his death. A piece of history that tastes oh so good.
Recommended by: Clemens of Travellers Archive [Follow on Facebook]
LORD STOW'S BRANCHES
Original Bakery: 1 Rua do Tassara, Coloane Town Square, Macau
Cafe: 9 Largo do Matadouro, Coloane Village, Macau
Garden Cafe: G/F C Houston Court 21 Largo do Matadouro, Coloane Village, Macau
Bakery & Cafe: Shop 870, Mask Street, The Grand Canal Shoppes Venetian, Macau
8. Tai Lei Loi Kei – pork chop buns
If you haven't tried eating a pork chop with a bun then I suggest that you head to Tai Lei Loi Kei for their famous tender and succulent pork chop buns. The pork is imported from Brazil mixed with their homemade marinated sauce. However, the classic version (toasted) is only available from 2 PM. Should you arrive there earlier, fret not because you can still order the polo version (pineapple bun). Both sell for MOP 33. Their branch in Taipa can be walked from Galaxy Macau.
Alternative: Sei Kee Cafe's pork chop bun
TAI LEI LOI KEI
Address: 35 Rua Correia da Silva, Taipa Village, Macau
Operating Hours: 0800-1800hrs
9.  Koi Kei Bakery – Almond Cookies
A third alternative for egg tarts would be Koi Kei Bakery's but they are more famous for their almond cookies, egg rolls, and crunchy peanut. The almond cookies and egg rolls come in different variants but I highly recommend that you try the original versions first. The branch on the way to the Ruins of St. Paul (from Senado Square) has lots of products available and the best part is you can have a free taste before buying so that can really help you which ones to buy. Koi Kei is a popular shop for food souvenirs and they also sell different varieties of meat jerky (bakkwa).
Click here to check for Koi Kei Bakery branches.

Michelin starred restaurants
Robuchon au Dôme and The Eight, both found in the Grand Lisboa, are the only two restaurants in Macau with three Michelin stars. Robuchon is a flagship from the famous chef, Joël Robuchon, and is perfect for haute cuisine and wine lovers while contemporary Cantonese is what makes The Eight famous.
Buffet options in Macau
If you like to get the most bang for your buck and you like indulging in buffets, here are some of the recommended buffets in Macau you can choose from. Note that the clicking the links will take you to discounted vouchers offered by Klook, which are lesser than walk-in rates.
Macau Venetian Bambu Buffet – offers Macanese, Asian, and international cuisine for lunch and dinner
The Parisian Macao Le Buffet – offers European dishes for lunch and dinner
Macau Tower Lunch Buffet – lunch buffet on a 360-degrees rotating restaurant (voucher comes with entry to Macau Tower Observation Deck); check here for the

dinner buffet

Sofitel Mistral Buffet – alfresco dining with a view for lunch and dinner
Hotel Okura Cafe Nagomi Buffet – offers sakura-themed High Tea buffet on weekends and Curry-themed weekday lunch
Banyan Tree Macau – offers

Saffron Taste of Thai Set Lunch

, Saffron

Four Regions of Thai dinner buffet

, Belon

Sunday Lunch Buffet

, and

Afternoon Tea in Banyan Lounge

Sands Cotai Central Grand Orbit Buffet – offers a wide array of food from around the world for lunch and dinner
Studio City Spotlight Buffet – offers a buffet from breakfast to dinner in a cinema-themed restaurant
Galaxy Macau Festiva Buffet – offers first-class buffet for lunch and dinner
Cheap and budget eats in Macau
Street Food 
From Senado Square to Ruins of St. Paul, there are myriad of shops, kiosks, and carts selling street food. Some are even giving free taste! Try peanut porridge, peanut candies, food on skewers, almond cookies, meat jerky, curry noodles, congee, and bubble milk tea.
View this post on Instagram

2. Firma U Tac Hong
What to try: Tau Fu Far (soybean dessert)
Location: 19D Rua da Madeira, Avenida de Almeida Ribeiro, Macau
3. Wong Chi Kei
What to try: Guangdong noodles
Location: 17 Largo do Senado, Macau
4. Oja Sopa de Fita Cheong Kei
What to try: Shrimp Roe Noodles
Location: G/F, 68 R. da Felicidade, Avenida de Almeida Ribeiro
5. San Long Kei Mei Sek
What to try: Crab roe noodles
Location: Rua Sul do Patane, No 29, Centro Comercial Wa Pou, Macau
6. Yee Shun Milk Company (Leiteria I Son)
What to try: Steamed Milk pudding
Location: 381 Av. de Almeida Ribeiro
7. Gelatina Mok Yi Kei
What to try: Durian Ice cream, Serradura
Location: 9 Rua do Cunha, Taipa village
8. Dai Gwan
What to try: Black pepper pork pie
Location: 1 Rua do Monte
9. Cafe T.H.S. Honolulu
What to try: Coffee, breakfast
Location: 9 Rua do Almirante Costa Cabral, Macau, China




How to get to Macau
By air: You can fly into Macau via Macau International Airport (MFM) located in Taipa, through direct flights from the region and through connecting flights if coming from Europe, Americas, and other parts of Asia.
By sea: From Hong Kong, visitors can take a ferry via TurboJet or Cotai Water Jet which lasts from 45 minutes to an hour. Ferry terminals are Shun Tak Centre in Hong Kong Island, China Ferry Terminal in Tsim Sha Tsui, Kowloon, and Tuen Mun Ferry Terminal in New Territories.
Ferry Service is also available from Shenzhen to Macau.
By bus: There are air-conditioned buses that ply the route from Guangdong to Macau via The Border Gate and Cotai Frontier Post.

Getting Around Macau
Aside from walking a lot, visitors can make use of the free casino shuttle buses. Schedules and routes are usually posted on the hotel website. There are local buses that run throughout Macao Peninsula, Coloane, and Taipa. Click here for bus schedules and payment details.
Taxis are available throughout Macau but note that drivers often have a difficulty in speaking English so bring a map and/or Google Translate.
Where to Stay in Macau
---
Have you tried Macanese cuisine?
LIKED IT? PIN IT!